Team Volunteering Employer Schemes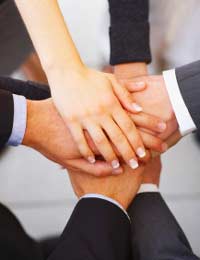 If you work as part of a team you may have fallen into certain patterns of working, and need a new challenge. Perhaps you would welcome opportunities to gain new skills or develop existing ones in a new environment. Employers have begun to realise the value of supporting team volunteering. Not only does it provide excellent training opportunities it also enables a company or organisation to demonstrate its social responsibility. Give something back to your local community and bond as a team as you meet new people and learn new ways of working.
Who can Get Involved?
Contact your manager or human resources department to find out about team volunteering opportunities in your organisation. It may have chosen local charities or organisations to work with on either a one-off or ongoing basis. Discuss opportunities with your colleagues to identify projects that would be most suitable. Some projects may require specific expertise such as accounting or marketing while others will be looking for a range of skills or general enthusiasm and input.
How Does it Work?
Your company may work directly with specific groups and organisations or may have an arrangement with a specialist volunteering 'matchmaker' such as Community Supported Volunteering (CSV). Either way projects will be chosen to benefit both the local community and you as a team. Before the project begins a risk assessment will be carried out. That may even be an aspect of the work which your team is asked to carry out on your employer's behalf.
There will be an opportunity to ask questions and to develop an ongoing relationship with your project. Your team may apply existing skills and resources to the new project or you may be asked to leave your comfort zone to tackle something completely new to you. For example you may find yourself working to assist in an area undergoing financial hardship. You could help with regeneration by facilitating groups, mentoring individuals or advising on applications for grant aid. Perhaps your team will come together to help build or decorate a community centre or to work with local volunteers to plant a community garden.
You may get involved with literacy projects in primary schools, working one-to-one with children to help advance their reading skills. Or you may be brought in as a team to support a new community group to establish itself and develop sustainability.
You will find yourselves working together in new ways and learning how to communicate amongst yourselves and with local community members to set targets and work together to achieve your goal. Your team may follow an existing hierarchy or there may be opportunities to try out new roles. If you have never managed before you may find yourself tasked with leading an aspect of the project.
Another way in which your team could help is by deciding on a charity or group to support through fundraising. Over a fixed period such as a year you will devise events and opportunities to raise much-needed funds. For example your team could participate in sponsored walks or runs, hold a dress-down day or a coffee morning or bake-in. Employers will often add to funds raised providing even more cash for your chosen charity or group.
Working together in this way can not only be fun but develops new relationships between the team, encourages new skills and boosts confidence and self-esteem. If your employer does not already support volunteering then why not discuss the possibilities of Employer Supported Volunteering (ESV) with your manager and colleagues?
You might also like...
I would like to do voluntary work related to occupational therapy
Maari
- 5-Sep-17 @ 9:37 AM
Hi I'm looking for a group volunteering oprutuinities by surrey or west london, we can take volunteering day to help community and group of 18 willing and enthusiatic people. Are there any opprutunities that we can be useful in? Look forward to hear from you