Be a Community Care Volunteer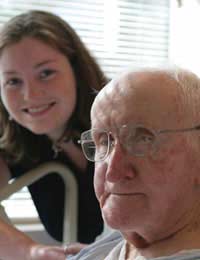 Volunteer to provide community care and you will be helping vulnerable groups in society to lead their lives as independently as possible. Whether you are supporting a disabled person or someone with learning difficulties the practical and emotional help that you give can make all the difference.
Due to the high demand for support local authorities and voluntary groups rely on the time and goodwill of volunteers to offer services in their local community.
This is a very rewarding role and allows you to give something back. It also provides experience to add to your CV and can be an excellent grounding for a career in health and social care.
Who can Volunteer?
Anyone over 16 with time to spare can think about volunteering. You will need to be calm, patient and reliable and be committed to equal opportunities. Physical fitness is an asset for some roles and you will need to be a good listener and able to get on with all kinds of people as offering companionship is a key part of this role.
Volunteers should reflect the diversity of the local community and are especially welcome from minority groups such as ethnic minorities who are often under represented. As you will be working with vulnerable people you will need to undergo a Criminal Records Bureau/Disclosure Scotland background check.
Who can Benefit?
You can volunteer to work with diverse groups or individuals. People who can benefit from your help include disabled people, people with learning difficulties, people with mental health issues and people recovering from addictions. Community care can also benefit people recovering from illness and injury, refugees and asylum seekers, young people, the elderly and ex-offenders. Full-time carers who need a brief respite of a week or two also welcome the support of voluntary community carers.
What is Involved?
Training and ongoing support will be given. This will be relevant to the particular role. For example it may cover areas such as mental health awareness, awareness of relevant legislation or health and safety. Other possible training areas include lifting and handling, nutrition, equality opportunities, disability awareness and First Aid.
Volunteers will be matched to appropriate groups or individuals. This could mean visiting sick or elderly people and assisting with basic household tasks such as cooking, tidying and shopping. You could be asked to drive people to shops or appointments or keep them company on a trip to the doctor's or to an evening at a club or the cinema.
In many cases you will provide isolated people with a point of contact with their local community. You can offer time which professional staff do not have to encourage and motivate someone to undertake activities whether this is an everyday life skill such as shopping or joining local groups or a day centre.
There are a wide range of opportunities available and you may find yourself taking on an advocacy role to help someone voice their issues and concerns. You may act as a mentor, helping someone to develop new skills as they transition into the community, whether they are recovering from an illness, are an ex-offender or a young adult leaving a care home for the first time. You could also become a befriender by listening to someone's problems and offering someone friendship and company. Or spend time with children, giving disabled or single parents a much-needed break. Accompany children to school or play with them for a few hours.
Contact your local authority health and social care department or voluntary groups in your area for further details about volunteering.
You might also like...
@claire alliot, it's better to avoid putting a phone number on a public website., so we've removed it. If you let us know where you're basedwe may be able to provide some contacts for you.
CommunityHelpers
- 16-Dec-14 @ 10:31 AM
Hey There,I'd like to see how I can help.Please feel free to contact me Claire
claire alliott
- 13-Dec-14 @ 12:52 PM
Hi all id like to try and get involved a bit more locally but dont know where to start and i do shifts at work
johnnie
- 16-Aug-13 @ 1:16 PM