Employer Supported Volunteering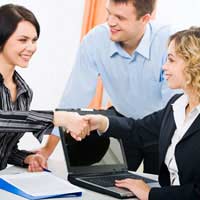 Working full-time needn't mean that you can't help out in your local community. In fact many employers actively encourage their employees to get involved.
Social responsibility is something which many firms take seriously as they recognise the need to give something back to society. It's a win-win situation. Voluntary groups and local organisations such as schools and day centres benefit from your time and skills. While you will gain valuable experience and an opportunity to build on existing and develop new skills in a different, challenging environment. Because of the all round benefits Employer Supported Volunteering (ESV) is on the increase across the UK.
Who Can Volunteer?
Check with your employer to find out if it has an existing formal volunteering programme in place. Find out which charities and organisations it has chosen to support. These may be looking for particular skills such as people with a background in finance or marketing. Other opportunities may be more general and open to anyone with enthusiasm. For example helping to paint and decorate a local day centre, plant a sensory garden or escort elderly people on day trips and outings. Whatever the role ESV is all about community investment.
For some roles where you may be working with vulnerable people you will need to undergo a Criminal Records Bureau/Disclosure Scotland background check. Of course you will need to check with your employer to find out how much time it can spare you for each week and whether you will be expected to make up any time.
What is Involved?
Even if your employer supports ESV remember to always check with your manager first that you can be spared from your department to volunteer on a regular basis. Establish how much time you can be available for and commit to a regular time slot. If it is not possible for you to volunteer every week you can still get involved on a less regular basis.
You may volunteer with a wide range of local groups and causes such as refugees, the elderly, disabled people, people with learning difficulties, one parent families or children. The possible roles available are diverse and will vary according to your local community and the areas your employer has chosen to support. Some employers focus on specific issues or groups in society while others take a more general approach.
Many organisations are keen to recruit volunteers from business to act as mentors or facilitators for their group. Your skills in this area can make a difference in helping a group to fulfil its goals and in ensuring the long-term sustainability of the organisation. This kind of volunteering can be very rewarding and challenging and provide excellent experience to further your career.
There is similar demand for experience in other fields such as finance and fundraising, marketing and promotion and creating partnerships and networks. If you work in human resources you may be able to advise on volunteer recruitment.
Practical skills are equally in demand, especially if you have a trade such as plumbing, carpentry, engineering or IT. More general practical skills are valued too such as driving people around, reading to children or the elderly or teaching reading and numbers to children or adult learners. You could get involved in sports coaching or leading walks or fitness classes or simply spend time with vulnerable individuals providing them with social contact, listening to them and inspiring them with confidence. This could lead to volunteering in social care, befriending or advocacy.
If there is no formal scheme in place where you work then approach your manager or personnel department to suggest that one is created. Contact your local volunteer centre for advice on setting up a scheme and for details of local projects which you may want to get involved with. Finally, if you cannot afford the time to volunteer or your employer cannot spare you then you could consider workplace giving. You donate a small amount from your salary each month which goes towards supporting a local cause or voluntary group.
You might also like...