Becoming a Local Councillor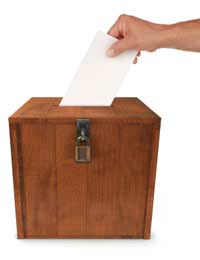 Local councillors put themselves forwarded to be elected to the local council. Whether they choose to represent a political party or stand as an independent representative they will have the power to influence and make decisions on local issues such as transport and housing. You can help to set the agenda for local policy making, identifying issues of real concern to people in your neighbourhood. Volunteer as a councillor in local government and you can make a real, practical difference to your local community.
Who Can Stand as a Local councillor?
Anyone over 18 is eligible to stand for election as a local councillor but there are restrictions. You must be a British, Commonwealth or European citizen and either resident or employed in the area. You must be on the register of electors and cannot work for the local council, be bankrupt or have been imprisoned.
You should have an interest in local affairs and may be retired or could be working full-time as much council business takes place in the evenings. You should have an interest in local government, have good numeracy and literacy skills, be a good listener and have good communication skills. You should believe in equality, be able to consider issues and be able to relate to people from all backgrounds.
How Can You Get Elected?
Local authority areas are divided into wards. The number of wards varies depending on the size of the area and its population. A councillor represents a particular local ward and is elected by a democratic process.
Elections are usually held every 4 years. If you are a member of a political party you can apply to be adopted as their official candidate. Alternatively get local support and stand as an independent. When elections are announced you will canvas for votes and support in the local community.
Contact your local Town Hall for an application form and information pack. If you wish to stand as a representative of a political party then contact their headquarters. When you propose yourself you must have a seconder and eight assentors in support. You and all of your supporters must be on the electoral register.
Campaigning expenses are reimbursed but you need to organise publicity, leafleting, meetings and interviews. Some people engage an election agent. You can also visit the Electoral Commission website for more information.
What is Involved?
If you are elected you will represent your local community and make decisions on local issues. In order to keep contact with those who elected you will hold surgeries where constituents can meet you to raise their worries and concerns or seek information and advice.
Your main role is to attend council meetings which usually take place in the evenings. You may also sit on sub-committees to discuss specific issues, serve on Scrutiny and Review Panels or sit on Statutory Boards. You will vote on issues and help to make policy.
Issues could include transport, housing, refuse collection, leisure facilities or funding for community groups. You will receive meeting papers several days ahead of the meeting which you must read and consider and will work alongside paid council workers who help to implement decisions.
The structure of individual councils varies. There may be committees or an executive decision panel supported by scrutiny panels. There will be a mayor or chairman with overall responsibility for decision making. Throughout your term of office as a councillor you must abide by a code of conduct, declare any interests and also declare any gifts or hospitality you receive in the course of your duties.
You will receive ongoing support and possibly training. Not only does serving as a councillor give invaluable experience in leadership and committee work and grounding in the work of local government it could be the basis of a future political career and entrusts you with real power to improve the lives of everyone in your local community.
You might also like...