Be a Voluntary Occupational Therapist Assistant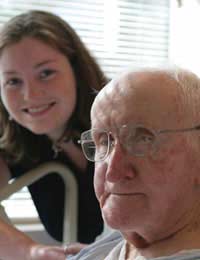 An occupational therapist works with people to enable them to live as independently as possible and to manage their daily lives. Volunteers assist therapists in practical ways and in their work with patients. Patients may have had an accident or illness such as a stroke or they may be elderly, disabled, have mental health issues or learning difficulties.
What is the Role?
Volunteer Occupational Therapists (OTs) also known as occupational therapist support volunteers generally assist OTs in their role. Volunteering can be a good way to gain experience if you are thinking of becoming an OT or working in the health field. It is also rewarding in its own right and puts you at the heart of a team. Roles may be available in hospitals, day care centres or in the community at client's own homes.
Who can Volunteer?
Volunteers need good people and communication skills. Experience in working with disabled people is an advantage and certainly you must feel able to work with vulnerable and disabled people. The role requires flexibility, patience and calmness.
You need to be considerate of patients' needs and rights and have an ability to get on with all kinds of people. Empathy and an ability to motivate people are important and respect for confidentiality is essential. Basic levels of fitness are needed as you need to be able to carry out physical tasks. Practical skills you can share (such as knitting) are helpful and you must be reliable and feel happy to work in a team. As you will be working with vulnerable adults a Disclosure background check will be required.
What is Involved?
An OT assesses a patient and then works with them to improve their wellbeing. You will help support the patient's rehabilitation and encourage positive thinking. You may assist the therapist with equipment during treatment and may accompany patients to and from treatment and keep them company as they wait.
Practical help can include cleaning and disinfecting equipment, collecting and delivering linen and checking on equipment, noticing the need for any repairs and keeping an inventory of it. You may also act as a messenger for OTs and nurses.
Many tasks will directly involve you with patients. Work may be one to one or with groups. You may assist with classes in arts and crafts such as painting and drawing, pottery or making cards. Other life skills classes could include cookery and baking.
You could show patients how use equipment designed to assist them in daily life, and perhaps help to install equipment for them in their homes. Support people to take part in social activities and help them to develop a daily routine as they return to the community.
You will monitor milestones on the way to achieving goals and provide feedback to professional occupational therapists.
You will receive training and ongoing support and may want to work towards a qualification such as NVQ in Health. As you volunteer you will notice changes and improvements in the lives and wellbeing of the patients you work with and will help them to become reintegrated in the local community.
You might also like...
The article doesn't say how to become a volunteer
James
- 8-Nov-23 @ 11:20 AM
I'm looking to shadow a qualified OT for my placement for university. I am currently working part time as a community care worker while I study . I have a full clean driving license and live in the north east Derbyshire area but I'm willing to travel .
Miss H
- 18-Jul-23 @ 8:30 PM
Hello I am interested in studying OT and would love to become a volunteer!
Chloe
- 23-Feb-23 @ 5:17 PM
Hi, I am interested in Volunteering for an Occupational Therapy Assistant job can you please give me further information about this job.
Shabi
- 5-Dec-22 @ 6:30 AM
Please can you let me know how I can find out about volunteer occupational therapy assistant posts in London? i'm starting my access to science year and I need the work experience as a volunteer for the BSC that will follow. Thanks
Dancing007
- 13-Jun-22 @ 8:04 PM
Hi! I'm an occupational therapist currently pursuing her post grad in occupational therapy, would like to know if there are any volunteering opportunities! Would really like to get more hands-on experience:)
OTnerd
- 28-Apr-22 @ 8:45 PM
Hello, I am hoping to get a volunteer role related to occupational therapy in London. I am thinking about a career change, but want to get a better understanding, and some first had experience first with an OT or to at least understand more what the day to day is really like. I am really interested by how many different context's OTs can work it, and I am hoping to learn more about how to get into this role and the scope within it. Any tips on finding volunteering opportunities or work experience would be amazing! Thanks Lulu
Lulu
- 9-Aug-21 @ 2:05 PM
I am a qualifiedoccupational therapist. I am lookingfor voluntarywork to assist mewith my skills. I have experience of working with the elderly and many other vunerablepeople.I have years of care in the community work experience. Inwould now like ro put my OT into lonh term work.I would be gratefulfor voluntaryor OTA work.
Would like to volunteer to shadow occupational therapists to see what setting I would like to work in. I aim to do a Masters but would like to volunteer to see if this is for me.
Faith76
- 28-Jun-21 @ 8:19 PM
I live in South West London and have been VERY interested in studying OT for a while now but would love to volunteer first to see if it is the right career for me before I go down the uni route (with all the fees!!) I love people and naturally a creative person. Currently a Nanny for three children but study graphic design when I left school so if I combine the two.... pretty sure an OT will be perfect for me :)
Nikki
- 14-Jun-21 @ 8:55 PM
I am planning to join you soon am social work.
Kkk
- 13-Jun-21 @ 10:24 AM
Hi, I have done my Masters in Special Education 14 years ago now I want to get back to work and gain experience in occupational therapy. I'm from Warrington Cheshire and can start ASAP.
Samina
- 9-Jun-21 @ 12:00 AM
I am currently studying Health and Social Care at Swansea University, I am in my first year and I've decided that after I've completed my degree I may like to go into occupational therapy. To help me make my decision I've decided to do some volunteering in this sector. I've completed a lot of volunteering before with vulnerable adults, elderly individuals and young individuals but feel I should focus more on the job I am looking to go into. I'm excited to hear back from you! Thank you.
Shannon190
- 12-May-21 @ 2:10 PM
I am looking to train as on OT in Cardiff and would like to gain some experience volunteering with OT's beforehand. I have a son with Cerebral Palsy and Erbs Palsy and am constantly having to think outside the box for new ways in which to help him improve his independence skills, whilst working along side his OT. I am in South West Wales. I look forward to hearing from you
Josie
- 3-May-21 @ 2:12 PM
Hi, I'm a recent sociology graduate and I'm interested in pursuing a carer in Occupational therapy. I'm hoping to get some volunteer experience. I'm from London, West Ealing and able to start volunteering ASAP.
Anoushka
- 29-Apr-21 @ 3:45 PM
Hello, I am a 1st year OT student, I have experience working with children with special needs as well as working with older people with physical and cognitive impairments. I would like to volunteer as an OT assistant to gain some experience and learn from therapists and patients.
Sara
- 29-Apr-21 @ 12:06 PM
Hi, I'm a recent psychology graduate and I'm interested in pursuing a carer in Occupational therapy. I'm hoping to get some volunteer experience. I'm from London and able to start volunteering ASAP.
Leah
- 28-Mar-21 @ 2:22 PM
Hello, my name's Isabella and I'm keen to gain experience as an OTA in Sheffield. I am currently a teacher, hoping to retrain as an OT by applying for a Masters in 2022. I am caring and keen to be of service wherever I can. Thanks for any advice / help with gaining experience! Isabella
Isabella
- 24-Mar-21 @ 1:44 PM
I currently work as an accountant (I used to be in fashion industry)but have recently looked after an OT with long Covid and after hearing what she does and helping her I've realised I have a lot of attributes and knowledge that could be better used as an OT. I'm currently looking into master courses and would love to volunteer to find out more about the role but to also give back to society. I'm in Brighton so any voluntary work there would be great. I'm driven, analytical, tenacious, optimistic and love getting results. I'm really looking forward to any opportunity you can put my way. I do work Monday to Friday so any weekend work would be brilliant.Thanks
Kim
- 17-Mar-21 @ 12:03 PM
Hi, I am applying to a Masters in Occupational Therapy and I'm interested in any experience/volunteer oppurtunities in Manchetser please! Thankyou.
Brooke
- 12-Mar-21 @ 12:36 PM
Hi I am considering applying for Msc in occupational therapy and I am looking to gain some practical experience. I would be interested in volunteering in my area
Caroline
- 11-Mar-21 @ 4:03 PM
Hello, My name is Mohamad. I have experience working as a Support worker with elderly patient, children with learning disabilities and hold an NVQ3 in health and social care (adult). I would like to pursue my study to become a qualified occupational therapist. I am looking to volunteer as an OT assistant in West London and surrounding area to increase my knowledge and skills and gain relevant experience in occupational therapy. Thank you.
Sam
- 26-Feb-21 @ 4:16 AM
Hi, I am in my third year of studying Psychology and I am interested in occupational therapy as a career. I would love to gain more experience this summer and I am based in London/ Brighton. Thank you
Fiona
- 25-Feb-21 @ 9:04 PM
Hello, I'm currently a 22 year old student in my second year of studying Psychology at University, i am planning to study a masters in Occupational Therapy. I am from Manchester and would love an opportunity to volunteer this year from April-September! Kind regards
Ella
- 20-Feb-21 @ 3:39 PM
Hi my name is Stabby. I have gained a degree in counselling studies. I am looking to study occupational therapy. I would like to gain relevant experience in occupational therapy
None
- 16-Feb-21 @ 7:26 AM
Hi :) I am a first year OT student at the university of Bradford. My placement has recently been cancelled, however I am very interested in doing some voluntary OT work over summer to gain more experience. I am based in West Yorkshire but willing to travel further afield. Any more information would be great :) Thank you, Emma
Emma
- 15-Feb-21 @ 12:10 PM
Hello! I am applying for an MSc in Occupational Therapy. I am keen to gain some experience working alongside an OT to increase my knowledge and understanding of the profession. Any help or advice on how to gain this experience would be greatly appreciated. I am based in West Yorkshire. Many Thanks.
Clare
- 14-Feb-21 @ 8:08 PM
I would like to be an OT assistant, so I need to gain a relevant experience by volunteering first. I live in Wimbledon. Many thanks, Ruba Albarghouthi
Ruba
- 23-Jan-21 @ 10:46 AM
Hi I am applying to study an MSc in occupational therapy and am looking for some voluntary work experience to allow me to enhance my skills and knowledge and to broaden my awareness and understanding of the different areas of occupational therapy. Any details of how to get involved or possible locations would be great. Thank you.
Jessica
- 9-Jan-21 @ 9:28 AM
Hello! I am applying for an MSc In occupational therapy and am looking for volunteering opportunities in my area. Please can you help me? Are there any available in my area? I am happy to travel. Many thanks!
Ana
- 24-Dec-20 @ 3:48 AM