Volunteering For Telephone Helplines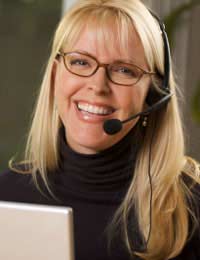 Get involved in your community by volunteering for a telephone helpline. You could offer support to someone local to you or someone in your community in the wider sense, that is a member of a specific group such as children, the elderly or people with long-term health conditions. For some help lines you can even volunteer from your own home so the opportunity is suitable for people who cannot easily get out to volunteer in other roles.
What is a Telephone Helpline?
Support callers who need to talk about issues which have arisen for them. This may be callers in a specific group such as the elderly or it may be general callers who need an understanding ear (such as callers to the Samaritans.)
Who Can Volunteer?
This will vary depending on the helpline. For some you may need an understanding of the issues involved e.g. parenting while for others no particular background is required. You do need some key skills to work on a telephone helpline though. You must be a good listener and empathetic with good communication skills.
You must be friendly and warm and be able to be supportive and non-judgemental. Above all you need to be able to put yourself in another person's shoes. An ability to maintain confidentiality is crucial. Depending on the helpline you must be able to work as part of a team or be confident in working from home. Given the nature of the work you must be able to commit to a regular time slot, which may be during the day or in the evening and you may need to commit to a minimum volunteering period e.g. 6 months.
Who Benefits from Telephone Helplines?
There are many hundreds of telephone helplines, each one is unique. Helplines serve many different groups of society. Examples include one parent families, children, homeless people, people with mental health issues, people with long-term health conditions such as cancer or MS, people in emotional crisis (such as Samaritans) and people in debt. The list is almost endless.
What is Involved?
The role varies from helpline to helpline. You will receive training in the practicalities of operating the phone, in listening skills and other relevant areas such any services which are offered. Some helplines offer an extensive period of training before you begin which may include practice exercises to prepare you for real calls. You may also receive training in skills such as suicide awareness and supporting people in emotional crisis.
If working in a central office you will have an experienced volunteer close by. If you are working from home there will be a supervisor you can call at the end of your shift to discuss cases. In all cases you will normally receive support and ongoing supervision.
You will answer calls during your regular time slot, listen to the caller and create a rapport with them to encourage them to voice their feelings and concerns. Your key role will be to help the caller feel less alone. To do this you need to be able to talk to all kinds of people and relate to them in an accessible, non-patronising way.
Be patient and give callers the time and space in which to be heard. When appropriate you can question gently to make sure that the caller expresses themselves fully. For some helplines simply listening and being there for the caller is enough to make a difference. For others you may provide practical information if relevant.
If possible you will help people to find ways to cope with their situation and may refer them to local resources. You may offer to research further information for them which you will get back to them with. Where appropriate you may refer them on to other agencies and you may refer more complex calls onto a more experienced volunteer or professional member of staff. You will always keep a record of your calls.
You can work with your local branch for some helplines. For example if you volunteer with the Samaritans most of your callers will come from you local area. You may get involved in other areas such as promoting the service, fundraising or presenting to groups. Or you may progress to supporting and supervising other volunteers.
Telephone helplines are always seeking volunteers. Look in your local phone book, ask a librarian or contact your local voluntary council for details. There are also opportunities to offer helpline support by e-mail too making this an ideal role for those who find it easiest to volunteer from home.
You might also like...
Looking for OT work experience in Coventry any ideas anyone please ???
Katz
- 11-Jun-15 @ 8:38 PM
Hi I'm looking for work experience for July as soon as possible .. I was wondering if anyone could help .? Thanks
Katz
- 11-Jun-15 @ 8:37 PM
Hi I my name is Tina I need 2 days minimum shadowing/work experience to achieve the conditional offer propositioned to me by Coventry University for the next academic year. Could you help me to satisfy this requirement before July 31 2015? I am currently working as a Support Worker within the community situated in Birmingham. Kind Regards, Tina