Carer Support Within Your Community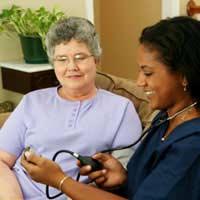 Giving carer support means providing practical day to day assistance to members of the community. This enables them to carry out their daily lives and be active and independent members of society. Without carer support many people would be housebound or have to stay in a care home and lead much more limited lives. Support can be short-term or long-term as required. Volunteering as a carer can make a real difference to someone's life.
What Groups Benefit from Carer Support?
People who need personal assistance in living independently benefit from care support. This includes various vulnerable groups in the community such as the elderly, disabled people and people with learning difficulties. Other disadvantaged sections of society which carer support workers may work with, include single parents and refugees.
Who Can Volunteer?
Anyone over 18 and older school pupils can gain valuable experience by volunteering in carer support. You will need to be patient and tactful and support equal opportunities. Practical skills and experience are useful but not essential. People from all walks of life can volunteer.
You need to be flexible, non-judgemental, and reliable. Roles vary but you need to be able to make a regular time commitment of anything from two to twelve or more hours a week. Volunteering is a rewarding chance to give something back to the community. It is a chance to meet new people, gain life skills and to gain valuable experience if you want to go into a career in health or social care.
What Does Carer Support Involve?
Training and support will usually be given. Training might include first-aid, disability equality & awareness training, moving and handling and health & safety. You will also receive ongoing support from professional social workers or voluntary group staff.
Roles vary as each individual's needs are different. Typical roles might include performing everyday tasks such as cooking and cleaning, assisting with personal grooming such as brushing hair or cutting nails or providing transport for someone to go out. You may help in tasks around the house such as gardening, DIY or changing light bulbs and fuses. Other jobs include looking after pets, reading and writing letters, helping with personal care or demonstrating how to use equipment.
Escort wheelchair users who may be disabled people or recovering from an illness or accident or accompany an individual on everyday outings such as shopping, going to the hairdressers or the doctor's. You might also accompany an individual to social events such as restaurants or the theatre.
Roles are many and varied. Act as a scribe for a disabled student. Offer respite care to allow a full-time carer time off. Support someone with mental health issues or learning difficulties to plan their days. Provide carer support to assist parents of disabled children or support families going through difficulties such as drug addiction, imprisonment or family breakdown– providing emotional and practical support. This could include playing with children, taking them out on trips and offering them consistency and affection. It could also include taking the lead in helping to encourage parenting skills.
Accompany someone to sports games and matches or provide sighted assistance for a blind or visually impaired person e.g. in attending a solicitor. Help out in a crisis, working with professional social workers and health workers on a short-term basis or develop a long-term relationship with someone including taking the time to chat and listen. Volunteering in carer support can be physically and emotionally challenging but you will be supporting someone's independence and the rewards for you and the community are high.
You might also like...