Helping Others Through Yoga and Pilates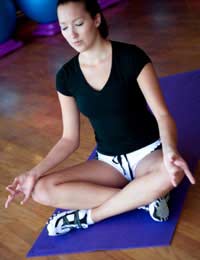 Yoga and Pilates classes can benefit all sorts of people, offering an opportunity to unwind, boosting self esteem, improving health and fitness and providing a place where people can make friends and socialise. In many communities, however, awareness of the benefits of these practices is relatively low. What's more, yoga and Pilates classes are often relatively expensive, putting them out of reach of some people. If you are a yoga or Pilates instructor, or simply a skilled fan of either practice, there are a variety of ways in which you can use your passion to help those around you.
Yoga for the elderly
If you are a yoga or Pilates instructor, consider holding a class for the elderly in your community. If taken at a gentle pace and approached carefully, both yoga and Pilates are sources of low impact exercise and work to improve joint flexibility, making them ideal for the elderly. Take time to devise a course of class plans targeted directly at the over 60s, focusing on improved mobility and relaxation. In giving local older people an opportunity to learn a new skill, you will benefit their minds as well as their bodies. Help your class members to get the most from their sessions by taking time to repeat and explain simple positions and exercises that can be practiced safely at home. You should also consider teaching your elderly pupils easy breathing and meditation techniques that they can call upon whenever they need to relax and take time to themselves. If you already have the necessary equipment, consider offering these classes free of charge. You may be able to negotiate free hire of a local church or community hall. Otherwise, be sure to offer the first class for free and charge a cheap rate thereafter, making your classes accessible and affordable.
If you are not a qualified yoga or Pilates instructor, why not buy a neighbour a yoga DVD designed for the elderly. Lend them a mat and offer to supervise and help them as they get the hang of it.
What else can you do?
Aside from helping the elderly, there are plenty more ways in which you can use your knowledge of yoga or Pilates to benefit others in your community. If your local gym or yoga and Pilates centre is prohibitively expensive for many, write them a lobbying letter encouraging them to offer a weekly half-price community class. Instructors might consider contacting local rape crisis centres to volunteer their time, offering relaxing yoga and Pilates classes as a form of therapy. If you are well versed in yoga or Pilates and are great with kids, why not offer to give a kid's introductory class at your child's school? You will need to get a police check, via the school, to do this.
If you feel that yoga or Pilates have benefitted you, they are sure to help others. With a little imagination, some research and a spot of organisation, you can harness the power of yoga or Pilates to make a difference in your community.
You might also like...