Be a Dental Complaints Service Panel Member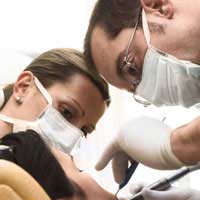 With increasing numbers of patients having no option but to go private for their dental care there is more need than ever to ensure that you get the best possible service from your dentist. Standards of dentists offering private treatment are monitored by Local Dental Complaints Panels. Get involved and ensure the best possible levels of care for yourself and your community.
What are Dental Complaints Panels?
Dental Complaints Panels address local dental complaints which have been referred to them. They deal with issues relating to private dental practitioners; there is a separate complaints process for NHS dentists. There are regional panels set up by, but independent from the General Dental Council (GDC). Panels are free to both complainants and dentists and aim to resolve disputes without the need for court action.
Who can Get Involved?
Dental professionals and non-dentists (referred to as laypeople) can get involved. Volunteers need common sense, maturity and integrity. There needs to be no conflict of interests.
You need to be fair, non-judgemental and able to follow both sides of an argument. Laypeople do not need any dental knowledge as they will receive advice on technical matters. You need to be confident and able to communicate well and mediation skills are a bonus.
What does the Role Entail?
Each regional panel consists of two lay members and one dental professional. Training is provided and laypeople can look to the dental professional for medical background and advice. Panels are held as locally to the complaint as possible.
The main business of the panel is to monitor private dentists and respond to complaints about them. Wherever possible complaints are resolved by dentist's own procedures within their practice or informally by advisers from the GDC. Of the estimated 2-4000 complaints a year the vast majority are resolved before reaching a panel.
The panel sits and hears complaints which could not be resolved by these processes. In addition to dentists it also considers matters relating to dental hygienists, dental technicians and dental nurses.
It aims to handle complaints quickly and effectively by a transparent process. It deals with all matters except patient safety issues (which are dealt with by the GDC.) Issues that arise include rudeness or bad communication, failure to fix something when treatment went wrong, unclear pricing of treatment and major mistakes over appointments. There may be a dispute over whether treatment was NHS or private. If a complaint relates to both NHS & private treatment a decision is made as to which complaints process will handle it.
The panel meets with the dentist and the person placing a complaint to discuss the issue. They may ask questions such as was the complainant made aware of all treatment options or was the complainant given all the necessary information?
Time is taken in reaching a conclusion and the panel then sends its written recommendation to both the complainant and the dentist. Outcomes could be an adjustment of fees, an apology requested from one side or further treatment to be provided by the dental practice. The panel can also recommend changes in the way a practice works.
Panels generally gather information on lessons to be learned and can provide feedback on improving dental services. Members contribute to improved quality in the dental services available in their community and gain valuable experience in mediation and dispute resolution.
You might also like...
I second the comment left by 'disillusioned'. I would NEVER be a part of THAT CHARADE EITHER.I speak from bitter experience.
disgusted
- 14-Aug-14 @ 8:59 PM
Be on a panel at Dental Complaints? I would Never be a part of THAT CHARADE.
disillusioned
- 20-Sep-12 @ 11:37 AM