Become a Buddy Walker or Walk Leader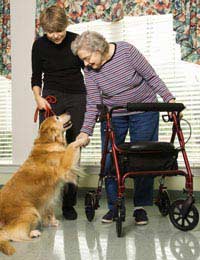 With worries that we are turning into a nation of couch potatoes walking provides a simple, easy way for people to get the required 30 minutes exercise up to 5 days a week. Volunteering as a walking buddy is a sociable role which can make a real difference to an elderly person, recovering patient or someone with a learning difficulty or physical impairment. It also gets you outdoors and exercising too.
As a buddy you will help provide company and motivation for anyone looking for support in getting fitter and more active. Walks can vary from short gentle circuits around a local park to more strenuous hikes covering several miles or more.
Who can Get Involved?
For various reasons people can find it difficult to get motivated to walk on their own. They may need practical assistance, encouragement or companionship. The great thing about walking is that almost anyone can get involved. Being a walking buddy is fun.
Walking is a great form of exercise for people with learning difficulties, people with mental health issues, the elderly and all kinds of people. Some projects may require competent and experienced walkers who can walk several miles or more while others cover more modest distances. For longer walks you may need to read maps.
Buddy walkers need to be confident and sociable and be prepared to adjust their pace to the needs of the person. Ideally you can commit to several days a week and are able to pick someone up when they feel inadequate or unmotivated. If you haven't exercised for a while always check with your GP first and remember to invest in suitable footwear – trainers or walking boots.
Walking gets people into fresh air, gets people fitter, exercises the heart and helps people to lose weight, builds stamina and strengthens bones helping in the fight against osteoporosis
Buddy Walking Projects
You could lead groups or work with just one person. If working with an individual you will set targets with them and keep them company and chat as you walk. You may help to time them and measure their performance using pedometers.
Targets may be increasing the distance walked as time goes on or shortening the length of time taken to walk the same distance.
Agree your route, length of time and how regularly you will walk. It may be combined with a befriending role as you develop a relationship and listen to the person's concerns and worries.
For example you may accompany an isolated elderly person or assist in the rehabilitation of someone after an accident or serious illness. You may help coach someone for example by advising on their posture and walking techniques.
Alternatively you could volunteer as a walk leader for groups in your local area. Volunteer walk leaders come up with routes, draw up maps and then lead walks. Volunteer walk leaders usually work in pairs. You can also assist at group walks by being a middle or back marker instead if you don't want to lead. You may be given Health & Safety training for this role.
Set an enjoyable route that passes through countryside or greenery if possible. For longer walks make sure that you are supplied with water and supplies such as nuts or health bars or fruit. Walk leaders may need to do some basic administration such as taking a register and taking health details from new walkers.
Volunteer through a hospital, day centre or look for voluntary groups advertising for buddy walkers. Approach local community groups and Neighbourhood Watch schemes or set up your own scheme locally. Buddy walking can also be an informal form of volunteering. Check amongst neighbours or friends to see if anyone would welcome some companionship and an opportunity to exercise. Try offering your services through a local gym or check whether they have a scheme in place
There are other forms of buddy walking which help the community too. Some employers support walking buddy schemes amongst workers to encourage them to leave the car at home and share walking, all or at least some of the way with co-workers.
Charities such as those for Downs Syndrome and Breast Cancer Awareness organise buddy walks to fundraise and promote awareness. That is a one-off event where walkers raise sponsorship for charity. You can also offer to buddy someone to exercise classes in the gym. Schemes often offer free class entry to the buddy.
You might also like...