Taking Part in Hospital Radio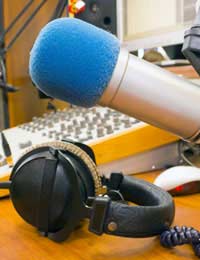 Interested in becoming a television or radio presenter? Many of today's stars got their first start volunteering with hospital radio. The first hospital radio station was actually set up in York County Hospital as long ago as 1926.
These days over 200 hospital radio stations broadcast to patients in over 400 hospitals across the UK. The stations provide a wide range of shows to enhance the experience of hospital patients. Volunteer and you will also find great opportunities to learn about broadcasting and may even launch your media career.
What is Hospital Radio?
Hospital radio stations are charities run by volunteers. The broadcasts run on special landlines from the studio to patients' beds where they can be heard through headphones. Nowadays many stations can also be listened to online. Programmes include music, news, sport, information and patient request shows. They inform, amuse and entertain patients and help to lift their spirits during their hospital stay.
Who can Get Involved?
Budding presenters, sound engineers, anyone who wants to gain experience in the media and people looking for a fun, rewarding way to meet new people. Anyone over 16 can volunteer. You need to have good communication skills and for some roles be able to operate equipment. People with IT, admin & marketing skills and people with technical knowledge or who would like to learn are all welcome.
Presenters need a clear speaking voice and all volunteers must be able to think about the patients and what they would like to hear. You will need to make a regular commitment, usually to the same time-slot each week as part of a team. Broadcast slots vary with some for a few hours in evenings and others running 24 hours a day.
What Roles are There?
Training will be provided by experienced volunteers, and there may be specialised courses such as voice presentation for presenters. Presenters will prepare playlists or news and content for their programmes, operate some equipment and broadcast across the air. They may be DJs on music shows or present news, information, magazine or sports shows.
Request collectors meet patients, chat to them, assist them with the bedside radio if necessary, and take their music requests. This is often the job that people start with. Collectors return to the studio with the requests and may sometimes get involved with the show or even read out the requests. A head request collector will coordinate rotas and check on bedside equipment if necessary.
Studio engineers operate the control decks and studio equipment as well as manage the sound systems for outside broadcasts. Ensure the equipment is all in good repair.
Producers help compile playlists or structure the content of individual programmes and ensure their smooth running. IT volunteers help with podcasts and accompanying websites and to operate computerised audio storage systems.
The Programme Controller plans the schedules and oversees them while the Station Manager is in overall control and coordinates the smooth running of the station on a day to day basis.
Other Volunteering Roles
Apart from presenting and running the studio there are many other roles open to volunteers. These include organising and cataloguing the studio library, compiling the station's playlist or acting as station treasurer. You could also organise training or coordinate volunteers.
Fundraisers perform a very important role as hospital radio stations are usually completely self-funded. Also key is promotion and PR. Act as press officer, update content for websites, perform outreach, and act as the contact for other media. Or get involved in organising special events such as outside broadcasts.
Contact your local hospital or the umbrella charity Hospital Broadcasting Association for more details about getting involved.
You might also like...