The Role of a Charity Shop Worker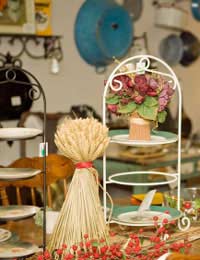 One of the most popular ways to volunteer in your community is to give some time to a local charity shop. Shops support the work of a host of national and local charities and community groups so you can select the project you would like to help. Enjoy all the rewards of working as part of a team and dealing with the public to raise vital funds. Shops are often looking for volunteers both front of house and behind the scenes too. You will gain both valuable retail skills and the experience of working in the charity sector.
Who can Volunteer?
Anyone with time to spare can volunteer. People usually volunteer for at least one morning or afternoon a week. As many slots are daytime during the week students, retired people, home makers and people working part-time are especially eligible.
Working in a shop can be a good preparation for returning to work after a break or to develop skills to add to your CV. If you have a retail background or specialist skills or knowledge (such as familiarity with vintage fashion or collectable pottery) that is useful. Good numeracy skills will be needed if you will be handling money.
Volunteering In a Shop
Many hundreds of groups have shops across the country. These range from national charities such as Red Cross, Cancer Research and Help the Aged to local hospices or community groups supporting vulnerable members of your local community such as homeless people.
You will gain the opportunity to meet new people, make friends and learn new skills.Training is given and expenses are usually reimbursed. You can usually volunteer for a morning or afternoon a week or can give more time up to several days a week.
Shops exist to make money so you will learn typical retail skills. Help with window displays to attract customers to the shop and help to present the stock to best advantage. For example you will put out books by category or lay out clothes by type size and colour. You may also help with pricing and labelling.
You will welcome customers and help them to make their choice of goods, giving advice where required. Keep an eye on security, watching out especially when the shop is busy. Staff the till, make sales and handle money. Package purchases for customers after they have bought an item. You may also develop a specialism such as pricing clothes or books.
Other Ways to Help
As well as working front of house there are other ways you can support charity shops. Help to sort through donations. After they have arrived you will make them ready for sale, for example this could involve ironing or steaming clothes. You will also sort out any items which are unsuitable for sale and recycle them if possible.
Bring specialist knowledge such as expertise in old and rare books, fashion or vintage collectables. You will then have the role of sorting through donations of this kind and identifying valuable items in your category. Some charities such as Oxfam offer specialist training in this area. You can also assist with pricing generally as you build experience.
Shops also need to be kept in good practical order. Charities are often grateful for assistance with practical maintenance tasks. Put up shelves for stock display, change light bulbs or assist with painting. You will help to keep the shops safe and attractive to members of the public.
Another vital role is stock collection. Use your car to collect items from members of the public, especially large and bulky items. You can also participate in street collections when charities have made a specific appeal and asked people to leave bags of goods outside their front door. Help in gathering the bags and delivering them to a shop or central collection point is greatly appreciated.
As well as the rewards of giving something back and gaining practical experience volunteers may get a discount on shop items. Some charities also organise teambuilding and social events for volunteers. Contact the shop you are interested in directly to ask about opportunities or get in touch with the headquarters of the group or organisation you would like to help.
You might also like...