Becoming a Community Fundraiser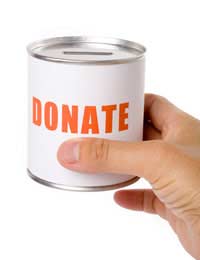 One of the biggest issues facing community and voluntary groups is funding.
Put your skills and enthusiasm to good use and volunteer as a community fundraiser.
This can range from taking part in a sponsored event to planning and organising a fundraising occasion or seeking out and applying for grants.
Your help can help to sustain local projects, introduce you to new friends and give you valuable life skills and experience which could lead to a career in fundraising, planning or the third sector.
Who Can Become a Community Fundraiser?
Although a background in fundraising can help it is more important to have enthusiasm and a positive outlook. An ability to motivate people and to generate good ideas is desirable as is the capacity to network and follow up leads. Numeracy and literacy will be necessary for applying for grants.
What is Involved?
There are endless ways of raising funds. You may already be involved in a local group and have volunteered for the role or a local group may have advertised for a fundraiser. If you don't want to take on the responsibility of overall fundraising you could volunteer for a specific task. This could be raising funds through a one-off event such as a sponsored walk, swim or parachute jump.
If you are in overall charge of fundraising you may receive training and attend courses in grant writing, sponsorship, taxation and event organisation. Canvas local opinion for ideas and suggestions, it is important to have public support. Motivate fellow fundraisers and volunteers to get involved in achieving your goals.
When planning a fundraising event set up a committee with other volunteers. Identify the key tasks such a organising a venue and publicity and allocate roles. Budget for any costs and talk to local businesses and suppliers to see if they can supply anything for free. Enlist support from local celebrities or businesses and see whether they are prepared to provide sponsorship or financial support.
Popular fundraising events include organising a collecting day in your neighbourhood, organising a charity sale or coffee morning and selling Christmas cards or other items for your chosen charity. You could put on a concert to raise funds, hold a fashion show or organise a pub quiz night.
Arrange a dress-down or fancy dress day at work with people making donations to your charity or organise a sponsored silence or sponsored haircut. Other possible events include charity sports matches and prize raffles. Work with a volunteer PR person to get coverage for your initiative on the local press and radio.
Other ways in which fundraisers work include developing relationships with local authorities and other potential funders and exploring National Lottery and other potential funding from national bodies. Once you have identified potential funders you will craft fundraising letters and fill out grant application forms as professionally as possible. You can also explore partnerships and resource-sharing with peer organisations. Approach local employers to ask them to consider workplace giving in support of your organisation.
Volunteering as a fundraiser can be challenging and requires persistence but it is a key role in supporting the work of your chosen community group or local cause.
You might also like...