I Volunteered for a Local Museum: A Case Study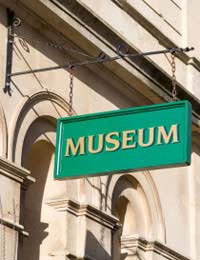 After graduating with a degree in travel and tourism three years ago Jane Francis wasn't sure what she wanted to do next. Despite sending off dozens of job applications she found it was impossible to enter her chosen field. "It's always been my dream to work in tourism but after all my hard work I suddenly found the way blocked. When I asked potential employers why I didn't get an interview they said I lacked experience. It seemed unfair."
Jane signed up as a temp with a local employment agency and started working as a PA for local companies. It paid the bills and gave her work experience but despite having earned a degree she felt no closer to achieving her goal. "A couple of the companies I worked for offered me full-time employment and a chance of a career with them but although I was tempted I was determined not to give up on working in tourism."
She decided to go back to her college and take advantage of the careers advice service there. During her chat the careers advisor suggested that she volunteer to gain valuable work experience in a related field to her degree. "She was so helpful and one of her suggestions was helping out at a local museum. I would never have thought of it but as soon as she mentioned it I realised that it made sense."
Jane sent off her CV to several museums and her local Museum of Childhood got back to her offering an interview. Her background was ideally suited to supporting the Education Officer in arranging events and outreach for local schoolchildren. Jane rearranged her temping availability to four days a week and committed her Fridays to helping out at the Museum. This had financial implications for her but she cut back on her expenses by walking to work when possible, always taking packed lunches and cutting back on nights out. "It was hard saying no sometimes when friends wanted to go out but I knew I was investing in my future."
Her role at the Museum was quite basic to begin with, typing up letters and helping with basic administration. However once she had shown herself competent and reliable she was given more responsibility. Her first big break was to organise an interactive day on childhood during the Second World War.
Under the supervision of the Education Officer she was given the job of organising speakers, planning the structure of the day and arranging for objects to be available for the children to handle and talk about. Jane discovered she had a flair for event organisation and remained calm and unflappable even with forty ten year-olds excitedly running amok in the Museum. The day went off without a hitch "although I was quite tired by the end of it" says Jane. The feedback from children and teachers was good and it even helped the Museum raise much-needed revenue.
Following on from that Jane was given the task of organising a week of summertime events for children during the school holidays. "Although it was hard work it was so rewarding to see the enjoyment it brought and the way in which learning could also be fun for the kids. Not only that but it gave me so much experience in event planning and project management skills to demonstrate to future employers."
Ideally, Jane would have loved to build on her volunteering by finding a job at the Museum however its small size and restricted funding meant that vacancies rarely arise. However thanks to her volunteering she has now found a dream job working as a Project Coordinator for a local events company, and her role even involves occasional travel to events abroad. "There is always a way round things, you shouldn't give up on your dreams. Volunteering can be a great way to gain experience. It is also a chance to give much needed help and support projects in your local community. It's a win-win."
You might also like...