I Became Coach for Under 13s Football: A Case Study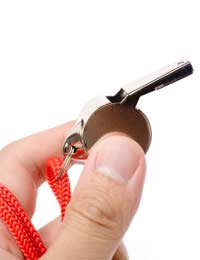 Don Williams' son Leo is football crazy. "When he was six all we ever heard about was David Beckham and he was always playing games with his friends." Leo joined the school team when he was seven and Don and his wife always went along to support him. "He's quite a good little striker and it's a buzz to cheer him on." Don himself had been a keen footballer and still played in a friendly pub league himself when time allowed.
By the time that Leo went to high school five years ago he was also a member of a local team. Eventually Don's enthusiasm was spotted by a manager and he was invited to get involved as a coach for the under 13s team. "At first I thought why me, can I be a coach? I also wondered about the time involved but with both our kids growing up and more independent I realised that I could spare the time."
In fact Don's involvement was key because a coach had moved away and without a new one the team would have struggled. "It's such a difficult age for lads and I would much rather they used their energies playing football than hanging about the streets" Don says.
As well as guiding young players in the art of kicking and passing a ball Don also has a responsibility for their health, safety and well being. "There is quite a lot involved." He has had the opportunity to learn a lot of new skills and has always been well supported by the team manager and other coaches. For example he was sent on a First Aid course to ensure that he was able to look after any minor injuries sustained during a game.
"There is also a well-supported learning pathway for coaches through the Football Association." As soon as he agreed to take on the role of coach Don was signed up for the FA Level 1 Club Coach course at a local sports centre. "It was a great introduction and helped me have a clearer idea of what is needed to help the boys perform as well as possible while keeping the game fun."
Don has since also gained his FA Level 2 qualification for people who have experience of a few seasons of coaching. His abilities as a coach have greatly improved since he first began and his team has now won many matches and even reached a couple of regional semi-finals.
"The aim is that we will lift the cup one of these days but it's actually far more important that these young players are able to develop their skills and enjoy taking part." A big part of his role is in building confidence and helping to encourage the boys both as individuals and as part of a team. "It's not just about football these are actually skills for life. The lads learn how to cooperate with each other in ways that will stand them in good stead for how they deal with other people in their community generally. Of course it also helps them to be fit, active and healthy too."
By helping out as a coach Don has developed leadership and motivational skills which have helped him develop confidence in other aspects of his own life. He is also able to indulge his passion for the Beautiful Game which he still plays regularly himself, even though Leo is now a far better player than his Dad!
You might also like...