Work- Life Balance as a Hospice Volunteer: A Case Study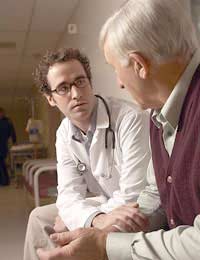 John Parsons was working 45 hour weeks as a financial consultant. The rewards were high but he rarely got time to spend with his wife Marie and their two children. "Work took up my whole life, it was all I could think about, and it was pretty stressful."
Three years ago his grandfather grew seriously ill and John visited him in their local Marie Curie hospice. "It was such a sad time but I was impressed by the support that the hospice offered him. It was such a peaceful place with a positive attitude. Seeing my grandfather pass away and watching the people who worked there made me really question what I was doing in my own life."
John was motivated to reduce his hours at work to spend more time with his family. "Marie and I discussed it, we knew we would need to make savings, but quality time as a family seemed much more important." He also realised that he wanted to give some of his time to help out at the hospice. "I just wanted to give something back but also I had talked to a couple of the volunteers and realised how rewarding they found it. I don't mean financially rewarding, rewarding in a different way."
To begin with John phoned up and made an appointment then went along for a chat. "They were very welcoming and had two slots available on the reception desk on a Thursday evening and a Sunday morning so I signed up." The role was very different from what John was used to, although his experience in talking to financial clients helped him in dealing with visitors.
As a volunteer receptionist he acts as the first point of contact for patients and visitors on arrival. As well as providing a friendly welcome John advises them on services and directs them onwards. It is a key role in setting a relaxing atmosphere. Patients may arrive feeling worried, upset or scared and John has found that he is able to put them at ease in the hospice's calm and supportive atmosphere. He also enjoys talking to such a wide range of people. After some initial training John and another volunteer solely staff the desk on the evening slot. "I discovered that hospices simply wouldn't survive without the work of volunteers. Resources are tight."
While he still works on the reception desk one day a week John has now got involved in fundraising, helping out with the finances and organising events to raise vital cash to maintain the hospice. Last year he even got fit to take part in a sponsored run. "Staff and volunteers work closely together here and make a great team. Although there is a lot of sadness in the work, it can be very inspiring here. Everyone has a common goal. I have met some amazing people and made new friends from all walks of life."
John feels that volunteering for the hospice has opened up new horizons for him. "My career still matters to me but I am able to switch off now and keep it in proportion." The hospice has helped him to realise what is really important to him and he has learnt a lot about himself. "I can be a pretty patient guy and my financial skills are now giving something back to the community. That gives me a great feeling."
You might also like...