I Became a Councillor to Help My Community: Case Study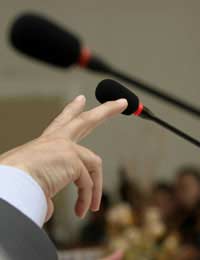 Becoming a councillor is one of the most significant and hands-on ways that you can help your community. It is also a big commitment – and one that can really take over your life.
We spoke to Anna, a councillor based in the South-West of England, to find out how she got into local government, and what she hoped to achieve.
How did you become a councillor?
I initially started out running a community centre in my hometown. There was a group of about a dozen of us running the place in our spare time, trying to provide somewhere for kids, teenagers, and pretty much anyone else to go, learn, and have some fun. It was open for six years until, eventually, our funding disappeared. We simply couldn't carry on without that cash, so it had to close.
I was so angry that no-one could step in and help on a local government level. So initially, I stood for election on the basis that I would try to be a hands-on supporter of projects like that community centre.
What did you want to achieve?
Well initially I guess I stood for election simply because I was angry. But then I realised that there were lots of things that I wanted to change in the area. I wanted to be able to support things like the community centre that we had just lost. But I was also caring for my elderly father, and I wanted to see improvements in the way that people in his situation were dealt with. Plus, our town is pretty small and we tend to get a raw deal with things like rubbish collection – so I wanted to try to improve that. All pretty basic stuff, but it's important to local people.
What do you think qualifies you for the job?
To be honest, I knew next to nothing about local politics when I stood for election. It was very much a baptism of fire. I think I was helped by the fact that turnout in local elections is quite low, and I had stood at a time where lots of people were angry about the community centre and about other ways in which they didn't think local government was doing its job.
I would say, though, that my previous experience in community projects was a pretty good qualification. It prepares you quite well for some of the bickering and one-upmanship that local politics can involve!
Do you have any advice for other potential councillors?
I would say don't be scared. If you genuinely believe that you can do some good for the community, then what's stopping you?
That said, you should be prepared for a lot of hard work, and a lot of barracking. Rightly so, people get angry with you when things don't go to plan. Plus, remember that it's not paid. I know some people think of it as a career, but for me it was just a way to help people – and I think that's probably the best way to approach it.
You might also like...