Getting Fit While Helping the Environment: A Case Study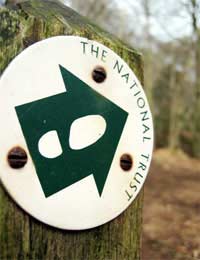 Joe Lane was a self-confessed "couch potato". His busy teaching job meant that when he got home he liked to switch off and relax on the sofa with a ready meal and the TV. "One sports day the teachers had a race and I suddenly realised I was gasping for breath. Something had to change." Joe had been a member of a gym years before but hated it.
Having an indoors job in a busy town he decided that he needed to spend more time outdoors. A colleague was a member of the local National Trust volunteers and invited Joe along to a tree planting day. Along with a dozen other volunteers he travelled to a local woodland and was shown the rudiments of using a shovel to dig holes and a mallet to knock in supporting stakes. "It was quite hard work and I quickly felt exhausted but the sun was shining and it was so peaceful with just the birds singing. I loved the fresh air." Joe didn't manage to plant many trees that day but enjoyed his taste of conservation work and decided to sign up for the next project.
Over the next six months he became an active volunteer. "I began to look forward to escaping the town and getting out amongst the greenery and peace and quiet." He also developed his digging technique and worked on clearing ponds, and building paths. "The other volunteers are a friendly bunch and there is something satisfying about getting your hands dirty and seeing the end results when you finish for the day. Saplings I plant now will be fully-grown trees and still standing in thirty years time."
He values the fact that all of the projects are overseen by qualified leaders who take time to explain the background to the project and how to use equipment safely. There are opportunities to learn new skills such as fence-building and also time to take in the beauty of the natural surroundings. Team leaders and other volunteers will often share their knowledge and point out interesting local plants or wildlife. "It's a world away from town life."
Not only does conservation volunteering with the National Trust take him to places he wouldn't otherwise visit in interesting company it opens doors too. Sometimes his group work in the grounds of local Trust properties and free entrance is a perk that comes with giving up his time.
As well as helping the environment and making new friends Joe has also found his fitness levels increasing. A couple of weekend projects helped build his stamina and then he booked up for a week dry-stone walling in Cumbria. "It really opened my eyes to a healthier way of living and I have now bought a bike and cycle to work and everywhere else when I can." He has become more active generally and says that his volunteering work has had a positive impact on his health and energy. "Don't get me wrong though, I do enjoy the trips to the pub with the guys after a hard day's digging!"
You might also like...