How We Created a Community Garden: A Case Study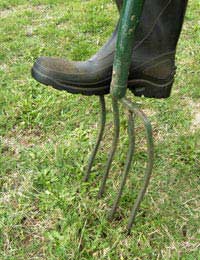 Neighbours Julie Hennessy and Lorraine Driscoll were sick of the eyesore that was the 'backgreen' to their tenement flats in Edinburgh. "It was concrete and bare except for bits of old rubbish and a few weeds. It just seemed so neglected." Julie says. When they saw a flyer for the Edinburgh Backgreens Community Association they knew that they wanted to take action.
ECBA operates to brighten up Edinburgh's backgreens and to give them new life and purpose. Backgreen is the Scottish word for the space or garden at the back of a house, especially a tenement (traditional blocks of flats.) The garden is a communal space available to all residents and was once used for drying washing. As more and more people acquired washing machines many of these urban spaces became overlooked and neglected.
The flyer offered to support setting up a community group to develop the space and Julie and Lorraine seized on the chance, especially as both have small children. "We loved the idea of creating a green and friendly space where they could play safely" Julie says. They quickly invited all of their neighbours to a meeting and were pleased with the turnout. "It was unanimous" and they agreed to invite ECBA along to help them set up a group.
The next part was hard work but a team came along to help them tidy up the green and landscape it. "We had a good say in how we wanted it to develop." Lorraine says. They were also allocated a shed and some tools to help them to garden. Residents were also able to attend training on how to grow fruit and vegetables.
The results speak for themselves. Where there was once debris there are now roses, lavender bushes, tomatoes and sweetpeas as well as a couple of apple trees which produce stunning blossom in the spring. There is a green stretch of lawn with some benches where people can soak up the peace and quiet of the pretty surroundings.
Delighted with the results of their efforts Lorraine and Julie didn't stop there. They teamed up with adjacent tenements to help them transform their backgreens too and now the greenery stretches across several gardens behind their homes.
"It's ideal" Lorraine says "all generations can get together here. My kids can play safely on the grass while elderly neighbours are able to sit on the benches and enjoy the peace and beauty." Neighbours also share in the work of maintaining the space and both women are among the small, dedicated team which ensures there is a good crop of strawberries, raspberries, peas cabbage, potatoes and herbs. They are currently experimenting with some vines in their south-facing garden. "It works well because people can contribute as much time and energy as they want but everyone is still equal and we all enjoy shares in the fruit and veg."
Both Lorraine and Julie feel they have got to know their neighbours better as a result and there is a much greater sense of community and safety in addition to the peacefulness and beauty that has been created. "We've even held summer evening parties and lit Chinese lanterns once it got dark. Everyone came along and we had children running about. It felt like it must have done in the old days" Julie adds "It's good exercise, sociable and makes for a nicer environment. All it takes is a bit of a hard work and some determination. Everyone should try it."
You might also like...