I Made New Friends at a Playscheme: A Case Study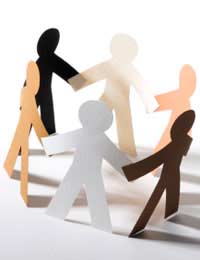 Mandy Williams is widowed and raising two sons on her own. Following her husband's death she moved back to her home town to be close to her family. Most of her childhood friends had moved on and Mandy soon found herself at a loose end when her sons were at school.
"Last summer one of my son's teachers asked if I would be interested in helping out with the local playscheme. I hesitated because I had never done anything like it but she persuaded me that I had something to contribute." Mandy's own sons were booked onto the playscheme so she was free to get involved.
Police Background Check
The scheme was for 8 to 12 year olds and took place in her local community centre. "I had to have a police background check as I would be working with children. I was a bit daunted when I heard about it but the school organised everything and it soon came back that I had no convictions and was able to work with children."
There were plenty of other volunteers and most of them were mums like Mandy with children either at the same school or neighbouring schools. "Some of the other volunteers were parents of my son's friends but I had never really had a chance to get to know them before." Playschemes look for volunteers who are parents or people with experience of working with children.
Supporting Local Parents
"The playscheme ran from 8.30am until 5pm throughout the summer holidays. It took the worries away from working parents of how to juggle childcare while they were at work. I know people were really grateful for the service. It made me feel good to be involved."
Mandy received training to help her to contribute to the running of activities. "It required a lot of concentration as it is quite a big responsibility, looking after other people's children. However it was also very rewarding and there was always help and support available from the teachers and other parents."
Fun and educational Activities
There were lots of different activities throughout the day ranging from the educational to pure entertainment. "One of my favourite activities was reading to the children. We would gather in a quiet corner and read stories. Sometimes the children would take turns in reading themselves."
Mandy also helped out with games, table tennis, chess and draughts and 5 a side football. There were arts and crafts sessions with drawing and painting. "I was so impressed with the work of the kids, some of them were so creative." The volunteers also took children on trips to the local park and the local museum.
Friendships
"Sharing in all of these experiences and responsibilities meant that I got to know some of the other volunteers quite well. They were mums like me and we had so much in common, especially as several of the other mums also had kids of the same age as mine."Mandy enjoyed the team spirit amongst the volunteers as well as the fulfilment of seeing the children's enjoyment of the activities. "It really brought me out of my shell" Mandy says. After the playscheme ended Mandy and a group of other mums stayed in contact. "We now have a regular coffee morning and we have a book group. We also go on regular cinema trips. I feel so much more settled here. I would recommend helping out to anyone and I plan to volunteer again next year."
You might also like...