Full-time Mum to Carer Support Volunteer: A Case Study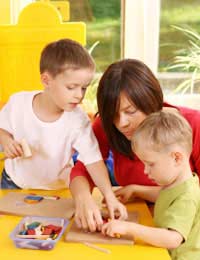 "I love it!" That's Sarah Mulvey's opinion of her carer support role. Sarah has been volunteering through a local group which supports people with learning difficulties for two years now.
Sarah has three daughters, aged 12, 11 and 7. "I was lucky enough to stay at home to raise all of my three girls after they were born and was very happy as a full-time mum. After Edie, our youngest started school, though, I began to look around for a new challenge. I knew I wanted to volunteer."
As it had been over ten years since she had worked as a receptionist Sarah didn't feel very confident about her skills but she knew that she wanted to do something worthwhile. "I'm a very caring person and I like helping people and bringing a smile to their faces. Having brought up my girls I also knew I enjoyed working with children and had some experience to share." She went along to her local library which put her in touch with Enable, the group she now volunteers with.
"I wasn't sure I had much to offer but they were so welcoming. They said that volunteers are vital in helping them support their clients." Sarah was given some initial training and then began working with a local family. "Basically, what I do is give the mum some time off to herself while I spend time looking after their child. My first family was lovely. Their little girl had Down's Syndrome and was a joy to spend time with." Sarah spends time reading chatting and playing. "We also go for nice walks to the park, where I take my own girls."
Sarah confesses she was fairly ignorant about learning disabilities before she volunteered. "I wasn't quite sure what to expect. But the children are lovely and I feel I have learnt so much from them and from their parents. I think I am much more patient and tolerant now." She has learnt to take her lead from the child itself and uses all of her natural maternal warmth to make sure that they feel safe and secure while separate from their parents. "In some cases it did take time but it is amazing how bonded we can feel. It is wonderful to see and it does make me feel happy and proud."
As well as having the rewards of spending time with the children Sarah also chats with their parents too and has developed friendships with several families. "It only takes a few hours a week. I still have plenty of time for myself and my own family but I believe it makes a big difference to the families I volunteer with." She receives plenty of ongoing support from her charity too and found the training she received very helpful.
"It's really built up my confidence and skills as well as making me feel good about giving something back. And I've made new friends in the area too." Sarah has now applied to college to study for an SVQ in Health and Social Care.
You might also like...