Founding and Running a Community Gallery: Case Study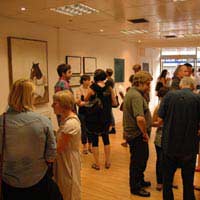 In September 2009, three friends got together to found TOandFOR, a community gallery in Archway, North London. Chris Lane, Jill Doherty and Harriet Jones sought to create an inviting gallery setting, putting the local community in touch with contemporary arts in an area that lacked such provision, whilst creating a platform for a diverse range of artistic practices. We spoke to Chris to find out more about his experiences of helping in the community.
Q. Tell us a bit about TOandFOR.
A.
Our gallery, TOandFOR, uses empty commercial property as exhibition and workshop space. Our aim is to generate an environment in which ideas can be exchanged and created. Through a programme of monthly exhibitions and free creative workshops we hope to give local people, and those coming from further afield, the opportunity to see some brilliant things, providing better access to the arts. TOandFOR is entirely volunteer run and is a registered charity.
Q. What sorts of exhibitions and events have you hosted?
A.
We have hosted an eclectic programme of fine art exhibitions, ranging from cardboard ice cream vans and steel tanks to surrealist paintings and a collection of self-published 'zines'. We have also provided the community of Archway with free workshops, covering all age ranges. Our last drop-in workshop was a stop-motion/animation workshop. Other past workshops have focused on screen printing, animation, paper making and performance. We host artist talks too. Htein Lin, a Burmese artist, came to speak about his seven year sentence in Burmese prison for political activism. We filmed this event and are in the process of making it available online. Other activities take place at TOandFOR to. Theatre groups have used it as rehearsal space and an artist crit group also use the gallery. These activities are not arranged by us, we just provide the space for others to use whilst we're closed.
Q. What different groups within the community does the gallery benefit and how?
A.
The gallery hopefully provides something for everyone. Whether it's parents and children coming to make a mask at one of our drop-in workshops or a Fine Art student studying at Byam Shaw (an art school two minutes up Holloway Road). We are working hard to contact other local community groups to see how we can collaborate. Last year, one teacher from a local school brought his English class to visit the gallery. One future show is in aid of World Mental Health Day. A group of local mental health service users will host workshops, open to the public, over an eleven day period. Amongst other activities, they will be making totem poles.
Q. How have you publicised your gallery to the local community?
A.
Word of mouth is very important. Talking to local residents is essential. Occasionally, we also invest in poster and flyers. We meet the leaders of other local community groups, share information and create a cross-over! An upcoming project will link the gallery, Byam Shaw and the local library. The internet is a great tool; our events are listed on local, council-created cultural web pages. Local press is always a big help too.
Q. How has the community received TOandFOR?
A.
Well, everyone says how the arts are lacking in the local area and what a great thing it is that we are doing this in Archway. I think cultural hubs like some places in East London can often create a vacuum, displacing creativity in other places. Oh, and we've not had a complaint yet!
Q. What might a day in the life of running TOandFOR entail?
A. Admin, meeting an artist to discuss future projects, cleaning, banking, health and safety, logistics, DIY, begging and borrowing but never stealing, some bureaucracy and funding applications.
Q. What financial support have you received and from whom? Is it difficult to fund such a project?
A. It's not so difficult when the area you are based in is deemed 'deprived'. We have received a community development grant from the council but our biggest funder is a local trust called the Cripple Gate Foundation.
Q. What are the most rewarding aspects of being involved with TOandFOR?
A. I get to provide the local community with high quality arts exhibitions and workshops. We also want the space to be somewhere people feel they can stop and have a cup of tea. It's great to see local people meet through our activities. Two of the local artists we exhibited last year are now sharing a studio on Archway Road. It is often tense and draining, but ultimately thrilling and a brilliant experience.
Chris, Jill and Harriet made the most of their passion, knowledge and practice of art to create a project that benefits both artists and local residents. Could you do something similar?
You might also like...