Helping Out in Schools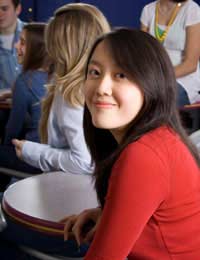 Whether you want to support your child in school, learn more about a career in teaching or simply want to work with children there are many rewarding ways to help out in schools. Offer support in the classroom, help with reading and numeracy, give practical assistance with school maintenance or become a school governor. Children are an important group in the community and will go on to shape the future of society.
Anyone can volunteer although people need to be flexible, creative, calm, reliable and able to work in a team. Many opportunities are ideal for elderly people but anyone over 18 can get involved. A Criminal Records Bureau/Disclosure Scotland check is necessary before someone can start.
Classroom Support
Volunteer as a classroom assistant with most opportunities available in primary schools. In secondary schools the main role is to support children with special needs. A volunteer assistant allows the teacher to concentrate on teaching the entire group. Meanwhile the assistant can give one-to-one attention. This is especially helpful where class numbers are high or some children have special needs.
Tasks can include preparing the classroom for lessons, reading to children and hearing children read, monitoring the class and writing comments in the children's books. Other roles include helping with invigilation, addressing absenteeism, helping children who need additional support and listening and talking to the children. Volunteers also assist with outings and open days.
Reading & Numbers Volunteers
Many schools welcome volunteers to work specifically with children on reading and numbers. Reading is the foundation for education. This is especially key for the 6-11 age group when individual support can help them keep up with their peers.
Volunteers work with individuals or small groups to support literacy & numeracy, through reading, games or exercises. This usually takes place in schools but outside of the main classroom. Anyone can volunteer. As there are particular concerns about boys underachievement in this crucial area the Reading Champions project invites men to encourage boys with their reading and literacy.
School Governor
One of the most responsible volunteering roles is School Governor. Schools are run by the head teacher alongside a management committee which makes key decisions about the operation of the school. There are 350,000 school governor places in England and Wales.
Anyone over the age of 18 is eligible, you don't have to have a child at the school. Enthusiasm & interest in education is necessary and other community involvement is useful. Life experience and maturity is welcomed as well as other skills such as leadership, financial skills or marketing.
Governors approve the school budget, set targets and strategies, review progress and support, advise and if necessary challenge the head teacher. The committee has representatives from the local authority, parents & staff as well as the community in general. There will be an induction course and some schools offer training schemes. The time of commitment is usually a few hours a month or a little more if you are asked to sit on a specific sub-committee such as finance.
Volunteering as a governor offer experience in chairing meetings, interviewing staff, making presentations and making financial & strategic decisions.
Other
There are many other ways to get involved with school life. Share your skills with children in out of hours clubs, for example you could set up a computing club. Help out in the library or with office work. Offer practical help such as painting or putting up shelves. Join the Parent Teachers Association, set up a fundraising drive or get involved in sports coaching.
Local schools will be glad of your support and you will be investing in the future of local children and the community.
You might also like...