Becoming a Mentor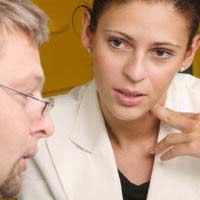 Volunteer as a mentor and develop a one to one relationship with an adult or child to encourage them to develop and fulfil their potential. In The Odyssey, Mentor was an older man who took on a fatherly role to support Odysseus through his trials until he overcame his obstacles to become a fully developed man. All kinds of opportunities exist to volunteer as a mentor within the local community.
What is Involved?
Mentors develop a personal relationship with their mentee. They listen, build confidence, challenge them and encourage them to overcome obstacles. They may help someone to get into education, to find employment or generally to find satisfaction in everyday life. It is a regular commitment, usually a few hours each week and a mentor needs to both accept people as they are and inspire them to achieve their best.
Who Can Become a Mentor?
Almost anyone who is committed can become a mentor. Mentors make a difference to someone's life and give back to the local community. As well as a rewarding experience they gain skills which can be invaluable for a new or existing career and some employers will even give time off in support.
Different experience is required for different roles. Mentors may be parents, young people, older people, professional people or peers for example people who have overcome mental health issues. Generally mentors need to be over 18.
There will usually be an assessment/recruitment process. Mentors need enthusiasm, integrity and an ability to motivate. They need a respect for equality and must be able to provide a positive role model. Volunteers will need to undergo a background check through the Criminal Records Bureau or Disclosure Scotland.
Mentors need to make a time commitment of six months or more and must be prepared to be challenged as the mentee may resist support and change.
Volunteers can expect to receive training. This may include listening skills, developing boundaries, health & safety, mentoring skills, challenging inappropriate behaviours and any relevant legislation. Usually supervision and support are provided and a mentor isn't expected to always have all the answers.
What Roles are Available?
Mentoring roles are as diverse as the communities they belong to. Parents can mentor others facing parenting challenges. Young people can mentor older people in computer use such as emailing and using the Internet or offer peer support to younger pupils in schools.
Support refugees and asylum seekers as they transition to life in the UK and seek education or employment. Mentor people with mental health issues to integrate into the community and perhaps return to employment. Support the rehabilitation of young or older offenders or work with socially disadvantaged young people to widen their options away from crime.
There are also opportunities to support young people as they leave local authority care and enter the wider community or to work with the victims of crime or sexual or physical abuse. Established professionals can also mentor voluntary and community groups in development and sustainability.
Other mentoring opportunities exist in supporting unemployed people back into work after redundancy or illness and supporting a child through education as a learning mentor.
Volunteers will listen to problems and offer a wide range of practical and emotional support. Mentors help draw up a personalised action plan and keep brief records of meetings. Supervisors ensure that the relationship is carried out safely on both sides.
A mentor may help their mentee to move into a new home, to develop social skills or to visit new places and join clubs. They can support people to learn to manage money, help mentees tackle social prejudices and help them to feel more involved in their local community.
Act as an anchor for someone in a time of transition and be someone who shows confidence and belief in your mentee's ability to achieve. The relationship may be challenging at times and will need to have an exit strategy in place for the end of the relationship unless both people want to continue it
Contact the local voluntary council, local authority or library for information or look in the local phone book for charities that may be looking for mentors.
You might also like...