Becoming a Youth Coach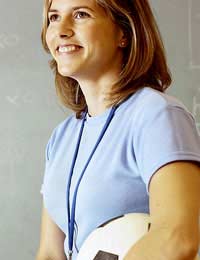 You don't need to be David Beckham or Paula Radcliffe to become a youth coach. Enthusiasm and a desire to motivate and encourage children and young people is all that is required. Experience in a particular sport is desirable but not always essential as training can be provided. Coaching offers the opportunity to gain leadership skills while encouraging young people to fulfil their fitness potential.
What is a Youth Coach?
A youth coach empowers young people to be the best they can be. Whether this means winning medals or simply increasing confidence and fitness levels the results are rewarding. A coach challenges & encourages the development of skill, stamina and determination.
Coaches work in schools, youth and community groups and sports clubs with children, parents & teachers. Not only do they inspire sporting prowess but they also encourage personal development. By promoting fitness and a healthy lifestyle at a key early stage they benefit children and their communities. Coaches also show that fitness and sports can be fun ways for children to spend their time and this can reduce involvement in more negative activities such as drugs, alcohol and crime.
Who Can Get Involved?
Anyone with the right qualities who is prepared to give time for free can be a coach. 145,000 people in Scotland alone volunteer in youth coaching and supporting sport.
Volunteers need to be enthusiastic, patient and get on with children. Leadership skills are also required and a Criminals Record Bureau/Disclosure Scotland background check will be run.
Coaching encourages social inclusion. Diverse groups reflecting the community at large can get involved including disabled people for some opportunities. A background in the sport or a similar sport is an advantage but not always essential. Coaches need to be reliable and are usually asked to commit to a few hours a week.
Training & support is available both locally and through conferences, networks and awards. A coach will gain valuable experience, develop communication & leadership skills and can work towards qualifications such as a Sports Mentor Award.
What Roles are Available?
Volunteers enable more children to get involved in sport. They may coach groups or offer one to one support by building confidence and delivering tailored training. While football is one of the most popular there are a wide range of sports which require coaches. These include tennis, athletics, rugby, boxing, martial arts, swimming, gymnastics, netball, hockey, canoeing and many more.
Coaches sometimes liaise with professional sporting organisations such as football clubs to support training. They also organise practice exercises, plan team strategies, organise 'friendlies', and arrange for participation in competitions.
In addition to sports, volunteers can also coach on other forms of exercise which are accessible to a wide range of abilities such as dance and walking. They may also work with disabled children or children with learning difficulties in making sport accessible. Valuable work takes place in socially disadvantaged areas to promote inclusion. For example coaches may work with young people in activities to divert them from crime, drugs and alcohol. This could also lead into work on health and advising on employment and general mentoring.
There are other ways to volunteer to help children and young people's sport such as becoming a referee or the manager of a team (both of which can be combined with coaching.) Volunteers also assisting by driving to events, getting kit ready and stewarding at events. They help organise tournaments and also support outreach by talking about sports to schools and community groups.
You might also like...
I'm looking for some think different, I would love to do coaching kids. Please email me back and let me know if you know any think.