What is Advocacy? Who Can Help?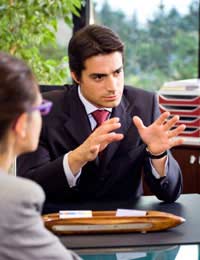 Advocacy is an important role which supports someone to overcome barriers to speak out, be heard and achieve their rights in society. Volunteer advocacy involves finding information, listening to the needs of the person and taking action on their behalf. Many members of the community benefit from advocacy especially those with learning difficulties, disabled people, refugees and other groups.
Who Benefits from Advocacy?
Take up a role as an advocate and there is a wide range of groups to work with. Advocacy was first adopted by people with learning disabilities, people with autism and asperger's syndrome and the parents of children with learning difficulties. It now also has a role to play with hospital patients, elderly people, homeless people, prisoners and victims of crime.
There are also advocacy organisations for people with mental health issues, disabled people, young people and other vulnerable members of society who need support in 'speaking out' such as refugees and socially disadvantaged groups.
There is also a growing movement of self-advocacy. People can join a peer self-advocacy group which may be set up locally and receive support to speak out for themselves.
What Qualities are Needed?
Although advocates come from all walks of life, specific qualities are required. An advocate needs to be a good listener, supportive, honest, trustworthy and diplomatic. They need to be able to speak out and take action on behalf of another person, always take their side and be committed to equal rights for all.
An advocacy role requires reliability – consistency in turning up, especially for important meetings. Respect for confidentiality is needed and volunteers will undergo a police check (Criminal Records Bureau in England and Wales or Disclosure Scotland in Scotland.) An advocate can't work for an organisation (e.g. council department) where they are representing someone in advocacy and for peer advocacy they require experience of the issues involved e.g. mental health issues.
Role of a Volunteer Advocacy
Whatever organisation the volunteer advocate works for, training will be provided. This may include safeguarding adults, advocacy, communication skills, relevant legislation, assertiveness, welfare benefits system and record-keeping. Advocates keep records of their cases and although unpaid are usually reimbursed out of pocket expenses.
The role is varied and will be unique to each client. It is not befriending and not about giving advice. Advocates simply give information so that the person can make decisions for themselves. An advocate may find out information about the law, accompany someone to be interviewed by a solicitor or the police or accompany someone to court. They could help someone to plan and carry out a house move or provide support in addressing problems at home or in a care home or day centre.
Advocates often deal with the council and other authorities such as landlords, banks and other agencies. They may help make a complaint about a service or accompany a client to the doctor or a hospital. They may attend meetings, ask questions and explain things to the client. They may also teach skills in speaking out to self-advocacy groups.
Seeing someone grow in confidence and achieve their goals with your help makes advocacy a very rewarding way of volunteering.
You might also like...