What is Guerrilla Gardening?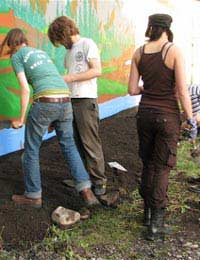 Guerrilla gardening traditionally involves gardening on land owned by another person, without their permission. Guerrilla gardeners usually seek to spruce up abandoned or derelict land that has been neglected or misused. Some guerrilla gardeners set to work at night, under cover of darkness, sewing flowers or creating vegetable patches. Others garden during the day in order to be seen by their local community, inviting others to join in and discover their green sides. Whilst gardening on land owned by another person is illegal, legitimate guerrilla gardening operations, approved by local authorities, are beginning to crop up. If you're keen to see more green spaces in your community, why not consider a spot of legal guerrilla gardening?
Choosing a site
If you are keen to get gardening in your community, you will need to pinpoint a site in which to sew and grew. Look out for poorly kept areas that are not being put to their best uses. Depressing, concreted and dilapidated open areas work well. These might be found in park land or in unusual places such as the centre of a roundabout.
Approaching your local council
When you have two or three places in mind, approach your local council. Firstly, be sure to check whether your local authority owns the areas you have pinpointed. Outline your intentions for the land clearly and confidently, highlighting how your gardening scheme will improve the look and feel of your community and raise awareness of environmental issues, as well as getting plenty of locals involved in an enjoyable, green pursuit. If you secure permission to tend the land, be sure to keep checking in with your council, keeping them in the loop and ensuring that your project complies with their legal and safety requirements.
Encouraging others
The best way to encourage others to join in your gardening mission is to be seen. Enlisting the support of your friends and family, set about transforming the land. Opt for day instead of night. This way, local people are sure to see you at work and many will become intrigued. Be sure to bring extra tools, so that passersby can lend a hand there and then.
Inviting the local media
Invite along your local newspaper and television news crew to witness your efforts. Your local authority may be able to give you advice when it comes to raising awareness and getting media coverage. You might even be able to persuade a local paper to follow your project over some weeks, charting your group's progress from beginning to end. This is a sure fire way to get others involved. Be sure to quote a time and a place where keen new volunteers will be able to find you gardening.
Don't forget to water the plants
Remember that, once you've created your beautiful guerrilla garden, the hard work is far from over. You will need to water and tend to your plants. Old office water dispenser bottles are an ideal way to transport large quantities of water to your garden area, although you are likely to need a car for this purpose too.
Legal guerrilla gardening is a great way to make your local area a little easier on the eye, whilst meeting new people and raising awareness of environmental issues. Guerrilla gardening can be particularly beneficial in urban communities, where green areas are scarce and many local people do not have a garden of their own to tend.
You might also like...