What Are the 2050 Targets?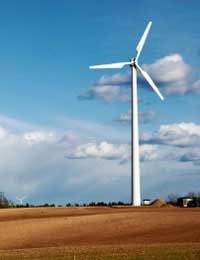 Climate change can be a scary thing. The numbers are so big, and the implications so significant, that many people presume that there is nothing they can do to help.
But this is not the case. Many world governments have set targets to reduce carbon emissions by 2050. These targets are amongst the most important elements of the world's efforts to battle climate change. But if they are to be met, we all need to work together – and that starts in local communities.
What are the 2050 targets?
As part of their combined efforts to stem and reverse the impacts of man-made climate change, the governments of most of the world's developed nations have set some important targets that they have pledged to reach by 2050.
These governments have pledged to reduce their carbon emissions by at least 80 per cent by 2050. This is a major undertaking, and one that is not going to be easy. It is, of course, very difficult to predict what the world will be like in 2050, and governments are struggling to come up with effective ways to cut emissions quickly.
How does this affect my community?
Climate change affects us all – and, by extension, so do the 2050 targets. It is common for people to feel somewhat helpless in the face of the massive problems the environment faces. But in reality, real, lasting change starts with individuals. If you can come up with ways to reduce your carbon emissions within your own community, you can help to ensure that the country meets its 2050 targets – and, more importantly, that we begin to reverse the impact of climate change.
Furthermore, you should note that many local authorities and councils have made their own pledges regarding carbon emissions. Your local area may already have its own targets in place, and it will be considering ways to meet those targets. Again, you can significantly improve the chances of this happening by thinking about ways that your community can act to reduce its emissions on its own.
What can I do to help?
There is a broad range of ways in which your community can cut its carbon emissions. To begin with, though, perhaps the most important thing you can do is try to raise awareness within your community. Although most people are now aware of the effect of climate change, and the impact that human actions are having on the environment, relatively few know about the 2050 targets. The targets are important because they provide a tangible goal – something that has previously been lacking. This goal arguably makes it easier to persuade people to take action.
Consider ways that you can spread awareness of the targets within your community. This might be as simple as dropping leaflets through people's doors. Alternatively, you might consider running a public meeting that outlines the problem, the target, and the potential solutions. You could invite speakers who have knowledge of specific areas, and ask them to share their expertise.
You should also consider approaching your local authority to find out what actions they are taking to meet the targets. Many councils now have dedicated 'green' departments, that offer advice and practical help for people who want to take extra steps to cut their emissions. They may be able to provide you with materials that you can use to help raise awareness – or, indeed, that you could use to cut your own emissions.
What is the My2050 tool?
The My2050 tool is an online application recently launched by the government. It offers users the opportunity to test different 'pathways' that the country could follow, with the intention of demonstrating how carbon emissions can be cut.
The tool allows users to explore different methods for cutting emissions, and then shows the impact. For example, you might choose to build a wind farm, and the application will then show you how much carbon this saves.
The My2050 tool is a good way of illustrating the many different paths that could lead to success with the 2050 targets. It helps to demonstrate that there is no set solution; instead, success relies on innovative thinking and awareness from all of us.
You might also like...