Inside Community Theatre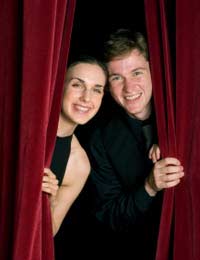 Community theatre is any kind of show, performance or theatre group devised and performed by a community. It is an inclusive, grassroots approach to theatre which often allows for the treatment of subjects which may not otherwise be dealt with. It also takes into account the varying needs and abilities of members and plays to their strengths. There are many different kinds of community theatre which you can get involved in.
Roles available include those for actors, stagehands, dressmakers, prop makers, in lighting, prompting, producing and directing. Theatre companies also need stage managers to run the company and manage any funds. While some community groups are run entirely by amateurs others may employ some professional staff such as the stage manager, box office manager and staff to fundraise and publicise productions.
If you want to set up your own amateur community theatre group you may be able to get help and support from your local authority. It may even be able to arrange for a professional company to come along to help you get started. Such companies will often be able to assist with research and scriptwriting if you wish to stage an original play founded on local experiences. One of the roles of community theatre is to devise original pieces which help to tell the everyday stories of the cast and theatre members in ways which will appeal to a local audience.
People with Learning Disabilities
There are several theatre groups across the country which feature people with learning disabilities. The Misfits Theatre Company attached to Acta theatre in Bristol and Lung Ha's Theatre in Edinburgh are two well-established companies with excellent reputations. Both groups aim to tackle stereotypes and to develop the potential of both young and older people with learning difficulties. Often their pieces reflect aspects of the experiences of the performers.
Disabled People
In addition to nationally acclaimed companies such as Graeae and Chicken Shed there are many local community-based theatre companies incorporating disabled people. Words, Signs & Vibes youth theatre in Birmingham is the country's only youth theatre involving both deaf and hearing young people giving them an opportunity to share the acting experience together. In West Wales the Taking Flight Theatre Company stages performances by a mixture of disabled and non disabled actors. Such an inclusive approach to theatre helps to overcome barriers which can exclude people from feeling like members of their community.
People with Mental Health Issues
In the same way other community theatre groups aim to express the voices of people with past or present mental health issues. There is often still a stigma attached to this area and community theatre can offer an empowering experience to participants. Oor Voices in Glasgow includes people with mental health issues as well as those with experience of caring for someone with mental health issues. They travel to community venues and help to demystify their experiences and tackle prejudice and fear.
General Community Theatre
In addition to these and other specific interest groups (such as those for young people) there are many community theatre groups which aim to involve as many local people in as broad a way as possible. Often the director or stage manager or group as a whole will focus on a local issue and explore people's direct experiences in order to create a play with real meaning for the community. It could tackle political issues, the history of the area or particular periods in people's lives such as the Second World War or what it is like to be a parent.
By collaborating together as a team to create a performance grounded in local experiences such theatre can help to foster community feeling and create greater ties between people of varying ages and backgrounds.
You might also like...