Community Allotments: How to Help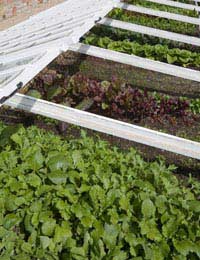 With a 'credit crunch' in full swing and doctors urging people to eat 'five a day' home-grown fruit and vegetables have never been more appealing. First popularised during the scarcity of the First World War allotments were neglected and seen as old-fashioned until recently. These days demand is rising. Community allotments are increasingly popular.
Community allotments are a shared enterprise which is accessible to everyone regardless of age, background or disability. Anyone who wants to can get involved and get growing. By combining small membership fees and shared labour neighbours can unite to reap the benefits of fresh, organic produce grown on their doorstep.
Work Involved
The work involved varies depending on the location of the allotment, its soil type and whether it is an going concern or a new venture. Many allotments became neglected in the last twenty years or so as people chose supermarket convenience over the benefits of fresh, local food. If this is the case then the allotment may need preparatory work such as clearing out rubbish and undergrowth, creating planting beds, building paths and erecting sheds and shelters.
Attention should be given to the needs of the community. Many disabled people are keen to get involved so paths and planting areas should be wheelchair accessible where possible. Raised planting beds can be easier to use for elderly members and children. Some thought should go into the overall design and as to what will be grown. Which fruit and vegetables, and will there also be herbs, trees, flowers or even vines?
Each community allotment has its own approaches but members will generally allocate tasks and draw up a rota. Maintaining an allotment requires a lot of time and labour throughout the year. Members can join in with digging, planting, weeding, watering or landscaping in whichever areas their skills and abilities best suit them. The idea behind a community allotment is that everyone joins in and contributes what they can, which doesn't have to be the same for each person.
Benefits
Volunteers feel part of a team and can enjoy working together to achieve their goals. Retired people, young people, disabled people, children can all pool their skills with practical results. Work outdoors in the fresh air and enjoy being a part of nature and the environment.
There is the chance to learn more about community gardening from more experienced horticulturalists. Encourage native wild flowers and plants to grow and learn about local wildlife. It is a green space for everyone to enjoy including those who have no gardens. All of this helps to increase a sense of community.
Above all it provides an opportunity to grow healthy, fresh organic produce. Volunteers can grow traditional British varieties such as apples, potatoes and carrots as well as more exotic vegetables. It helps the environment by saving on food air miles. Recycling with home compost is environmentally friendly too.
It allows people to grow their own food cheaply. Allotments are often rented from the local council who are usually very supportive. Memberships vary but are usually low, in the region of a few pounds. Members can grow more expensive vegetables such as artichoke and asparagus for a low cost. The combined resources of membership often mean that seeds, bulbs, fertiliser and even equipment can be sourced more cheaply than if bought individually. In addition allotments can be run as a social enterprise with produce sold to fund local charities and good causes.
How to Find Out More
Usually the local council is a good place to contact for information on community allotments. To find out more or if considering starting a community garden from scratch contact The National Society of Allotment and Leisure Gardeners http://www.nsalg.org.uk
You might also like...
Bob- Your Question:
I am at the grass root stage of creating a Community Allotment on a piece spare land at a Housing Association site in Essex.The site is approx. 80 ft x 30 ft at present it is clear of household rubbish ie sofas and other items that should be taken to the local tip.It just has waist high grass and weeds.I am hoping to get in touch with a local conservation volunteer group to help and advise local householders that want plots with tools and "elbow grease" to initially clear the site.I had an idea that once cleared weed suppresent material could be rolled down, paths created and plots cut through the material and have slightly raised edge boards, so freely obtainable woodchip from a local tree cutting company could be laid down between the plots and down a central path.We have a local company that has offered free good quality pallets that could be used to create community compost frames down one end of the site. Are my ideas too fanciful , I would like to read your views. Bob
---
Our Response:
Sounds like a great idea. Your local council's environmental services department or an organisation like
Groundwork
would be a good place to start. Contact your local community news outlets, parish newsletters, facebook groups etc to spread the word. You may also have local business groups holding breakfast meetings that you could pop along to.
CommunityHelpers
- 15-Sep-15 @ 12:04 PM
I am at the grass root stage of creating a Community Allotment on a piece spare land at a Housing Association site in Essex. The site is approx. 80 ftx 30 ftat present it is clear of household rubbish ie sofas and other items that should be taken to the local tip. It just has waist high grass and weeds. I am hoping to get in touch with a local conservation volunteer group to help and adviselocal householders that want plotswith tools and "elbow grease"to initially clear the site. I had an idea that once cleared weed suppresent material could be rolled down, paths created and plots cut through the material and have slightly raised edge boards, so freely obtainable woodchip from a local tree cutting company could be laid down between the plots and down a central path. We have a local company that has offered free good quality pallets that could be used to create community compost frames down one end of the site. Are my ideas too fanciful , I would like to read your views. Bob
Bob
- 14-Sep-15 @ 3:17 PM
Hi there, I've just acquired an allotment plot which my local council has given me the go ahead to turn into a community project. I've had plenty of help offered in the form of volunteers but I need to raise funds for building materials etc. could you offer any info into how to start up and how to raise funds etc, for example register it as a charity? Thanks so much :)
Bex
- 25-May-15 @ 3:52 PM