Rescue Helpers: Mountain Rescue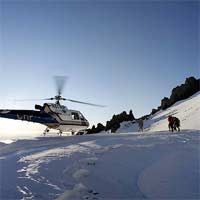 Every year hundreds of people end up in distress on hills and mountainsides. If you live locally why not volunteer to help the work of mountain rescue in your community?
Mountain rescue teams are charitable organisations and usually do not receive any government funding. They rely on volunteers to sustain this key service.
Take an active role in rescuing or work in a support capacity.
Either way you will be supporting a vital emergency service and gain many practical and life skills as you work as part of a committed team.
Who can Volunteer?
To participate in active rescues you must be physically fit and have good eyesight. You must be prepared to be called out in all weathers and to take calculated risks whilst keeping yourself as safe as possible. You will usually be a keen walker or mountain climber and experience in these areas is preferred for reasons of personal safety. You need to be able to look after yourself and be competent on a mountain even in difficult conditions. Ideally you will have a good local knowledge of the terrain.
For all roles you must be a team player with good communication skills and be calm, patient and reliable. As a rescuer you may be called out at any time and must seek the permission of your employer if you work full time.
What is Involved?
Although the main work is mountain rescue you may also help with other search and rescue operations such as on rivers or in towns and cities.
When you join a mountain rescue team you will receive full training in such aspects as hill and mountain climbing, navigation, working with helicopters, carrying stretchers and first aid. You will also take part in practical training exercises and practice is ongoing throughout your time as a volunteer.
Much of the work in mountain rescue involves tracking down and assisting walkers, hill climbers or mountaineers who have got lost, become stranded in poor weather conditions or who have fallen and injured themselves.
What Happens when Something is Reported
Usually police will be alerted to an incident as they have the responsibility to coordinate a rescue. They will then raise the alarm with the local mountain rescue team. Volunteers carry pagers and may be called out at any time of the day or night throughout the year. You will help to find people, offer them comfort and warm clothing, assess their condition and bring them safely down the mountain. You will also ensure that they receive appropriate medical treatment as quickly as possible. This may mean liasing with helicopter rescues or paramedics. Sometimes it will be necessary to administer basic First Aid at the scene.
It may take hours to locate someone and effect a rescue. You will require stamina and determination. Although teams will go out in hazardous weather the risk will be assessed and if conditions deteriorate the team may have to abandon a search as their own personal safety must be taken into account.
As part of your role you will also learning about maintaining and using equipment and may take part in giving talks to groups within your local community.
If you are unable to volunteer as a rescuer you can still help behind the scenes by assisting with administration and paperwork, organising training or by taking part in vital fundraising events. You could take on the role of fundraiser and actually organise events and help promote awareness of this essential service.
You might also like...