Fire & Emergency Support Service Volunteers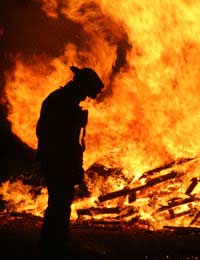 Give vital support to your local emergency services by offering your help as a volunteer. Many regions have volunteer fire services or you can give your time to help in other practical ways. There can be no more important way to volunteer in your local community than by giving help in situations which can often mean the difference between life and death to someone.
The work is challenging, exciting and stimulating and gives you hands-on experience of teamwork, decision making and what it is like to work for the emergency services.
Who can Volunteer?
You usually need to live locally and be over 18. You need to be healthy and physically fit. Volunteers need to be available immediately at short notice. You need to have good eyesight and be prepared to undergo rigorous training. It is also important that you are trustworthy, calm and very reliable. You need to communicate effectively and be confident in a wide range of situations. Volunteer firefighters will need the permission of their employer.
Volunteer & Retained Fire Services
Many areas operate volunteer or retained fire services. You will need to live or work close to the fire station to get involved. Volunteer units often cover remote or rural areas while retained services are attached to fire brigades in larger and more urban areas. There are also specialised volunteer units, for example those covering specific airfields.
Volunteer firefighters come from all walks of life. They may have full-time jobs or not be working. If you are working you must get the permission of your employer as you will carry a pager and could be called to action at any time.
Full training is given and is ongoing. This will include lectures, talks and practical training exercises. Teamwork is essential and you will learn to communicate effectively and how to take the initiative when dealing with an incident. You may also receive training in the use of special equipment for example vehicles adapted for single-track roads.
Your role can range from rescuing people from burning buildings and attending fires or road accidents to dealing with chemical spillages and helping people who may be trapped somewhere.
Volunteers receive payment for turning out for emergencies and for attending training while retained firefighters also receive an additional retaining payment.
Other Ways to Get Involved
You could consider joining the Red Cross as a Fire and Emergency Support Service (FESS) volunteer. Full training and support is given before you will be expected to be on call. You will provide back up to the emergency services at the site of fires, accidents and disasters. As with firefighting this is a highly responsible role and you will need to be confident, calm and comfortable in taking initiative. You could be called on at any time.
You will help accommodate people who have suddenly been left homeless and may feel distraught and disorientated. You will also offer them practical and emotional support and stay with them until they are able to be safely moved on. You may also refer people on to other agencies for help and welfare.
Apart from front line roles you could also get involved in fire awareness training within your local community as well as helping with other promotions to schools and community groups. Or find out if your local emergency services require assistance with admin. and paperwork.
You might also like...
i'd love to become a volunteering firefighter in my area i've always wanted to become a firefighter.
rosso
- 1-Feb-12 @ 6:45 PM