Rescue Helpers: Lifeboats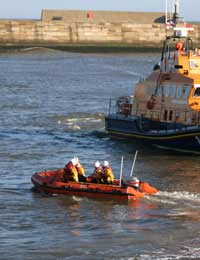 If you live on the coast then why not volunteer to support the vital work of lifeboats? Although there are independent lifeboat stations most coastal reserves are run by the Royal National Lifeboat Institute (RNLI.)
The RNLI is a charity which receives no state funding and relies entirely on the goodwill of people like you.
You will be joining another of the emergency services which complements the police, ambulance and fire brigade. Volunteering as a member of a lifeboat crew can be challenging, exhilarating and extremely rewarding as you ensure the safety of your local community at sea.
Who can Volunteer?
Although many volunteers will already be keen sailors you are welcome to apply without any sailing experience as full training will be given. If volunteering as a crew member you need to be available to be on call and turn out for an emergency at any time. If you work full-time this means you will need to get the permission of your employer. You must be prepared to turn out in all weathers and be calm, confident and reliable. You must be physically fit to be a crew member and be aged between 17 and 45 with good eyesight. You must be prepared to face physical danger in order to help save lives.
What is Involved?
Lifeboat stations work in conjunction with H.M.Coastguard to safeguard the lives of people at sea. In addition to the RNLI's stations there are around fifty independent lifeboat stations around the country. You can volunteer as a crew member, boat coxswain, lifeshore helper or fundraiser.
You will receive full training in rescue work, first aid, navigation, sailing and boat handling and will continue to train throughout your time as a volunteer. You will then have a probationary period of around a year.
After you have volunteered for a while and built up experience you may progress to becoming a coxswain or helmsman. The helmsman steers the lifeboat while the coxswain is in overall charge of the lifeboat and directs all other volunteers.
Rescues take place for swimmers in difficulty as well as surfers and people in boats and other water vehicles in distress. You could be mobilised at any hour of the day or night. You will don protective equipment including lifejackets as it is important to maintain your own safety as you attempt to rescue others. You may have to sail far out to sea to assist a vessel in difficulty.
When an emergency is reported you may receive assistance from RAF Search and Rescue helicopters. However many rescues at sea will take place with the work of the men and women of lifeboats alone.
You will proceed to the scene and effect a rescue. If a boat is in difficulties you will attempt to connect with it and tow it back to land. You will comfort and reassure the people you have rescued, provide them with warm clothing and ensure that they receive appropriate medical treatment as quickly as possible. In some cases you may carry out a helicopter transfer to speed people to appropriate care. You will also liaise with paramedics, police and hospitals.
As part of your role you will also learn to help out with running and maintaining the lifeboats and equipment. If you are unable to take part in lifeboat work you can still get involved in other ways. You could become a shore helper, assisting with equipment and in helping people who have been rescued. Help out with admin. and paperwork, help to promote the service or take part in fundraising events such as street collections or lifeboat days.
You might also like...