How to Become a First Aid Volunteer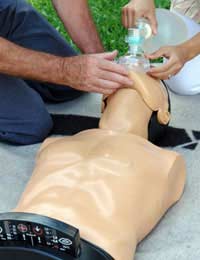 Help to save lives by training as a First Aid volunteer.
Be the first person on an accident scene to offer practical medical aid and support until paramedics arrive. Provide first aid cover at gigs and public events. Learn how to deal with medical problems and emergencies in your workplace and everyday life.
Not only does First Aid volunteering offer the chance to make a real difference to the wellbeing of members of your community you will gain vital practical skills. It is also a valuable preparation for a career as a doctor, nurse, paramedic or in social care.
Who can Volunteer?
You will need good interpersonal skills and to be a good listener. You will be down-to-earth, have a practical approach and an ability to undergo training. Volunteers must be comfortable around injured people and be able to keep calm and offer reassurance. You must be prepared to commit to a regular time slot and for some roles must be prepared to be on call and turn out at short notice.
What Training is Given?
Full training in First Aid is given. This covers everything from lifesaving emergency procedures such as Cardio-Pulmonary Rescusitation (CPR) to dealing with shock, burns, broken bones, bleeding and everyday ailments such as cuts, grazes and panic attacks.
You will learn how to assess a patient, stabilise them and take any appropriate steps to support them or make them feel better. In the case of an emergency you will help to preserve someone's life until emergency services arrive.
As you gain experience you can go on to train in specialist areas such as communications, leadership, liasing with emergency services or delivering first aid training.
What is Involved?
The main First Aid organisations are Red Cross and St John's Ambulance. Most opportunities exist with these two bodies and they rely on the work of volunteers to maintain their services. The time commitment varies according to local needs. You can volunteer to help behind the scenes or in different frontline areas such as emergency response, health and social care, events or therapeutic care.
Emergency response volunteers are on call to help out at accidents, fires, floods and other disasters. You will organise rest centres, deliver first aid, help people out by giving lifts in vehicles, offer companionship and support to accident victims
Fire and emergency service volunteers help evacuate people suddenly made homeless by accident or disaster. You will also refer people to other support services and provide practical and emotional support.
Volunteer for health and social care First Aid. This involves visiting people in their own homes to offer support with illness and minor medical conditions. You will give companionship and help out with practical tasks such as cooking and shopping.
General First Aid volunteers provide support at festivals, gigs, sporting and other public events. You could also be a medical equipment volunteer, demonstrating equipment such as wheelchairs, assisting with loan schemes such as delivery of equipment, training and checking it on its return.
Volunteers can also provide therapeutic care such as gentle massages to hospital patients, those recovering at home and carers. Through Red Cross you could train in providing skin camouflage to hospital patients suffering from burns and other skin damage. You will also apply and offer training in special creams.
Organisations also rely on volunteers to help out behind the scenes. There are plenty of opportunities in areas such as admin, fundraising and helping out in charity shops.
You might also like...
i want to learn about first aid and want to be paramedic one day.
lankey
- 16-Oct-17 @ 1:29 PM