Ways to Help Youth Groups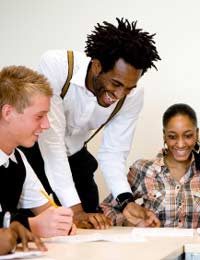 Whether you have children yourself or simply wish to pass on your skills, energy or enthusiasm to young people in your community there are many ways to help local youth groups.
Coach after-school sports clubs, help out with young theatre groups or work with vulnerable groups such as disabled children or children in care.
Taking part can be rewarding as you see young people develop. Volunteering as a youth leader is fun and can also introduce you to new skills. It provides a good grounding for working in the youth sector or social care. You will also be investing in the future of society for everyone.
Who can Volunteer?
Anyone with time to spare and a liking for children can volunteer. You must be able to relate to young people or may be a young person yourself. You may have particular skills to share with a group such as IT, sport or drama or may have life skills to offer. You should have good communication skills and be patient and reliable. Volunteers come from all walks of life. As you will be working with children or young people you will usually need to undergo a Criminal Records Bureau/Disclosure Scotland background check.
Who can Benefit?
All kinds of young people can benefit from your time. You may work with school children, disabled children or children with learning difficulties. Other groups include children interested in sport, socially disadvantaged children, children in care or young people leaving care. Volunteers may also work with other groups such as young people at risk of addictions or the children of asylum seekers.
What is Involved?
There are many diverse roles available and relevant training and support will usually be provided. This may include topics such as youth leadership, child protection or specialist skills appropriate to your role.
You could befriend an individual child from a vulnerable background who may have emotional, behavioural or environmental issues. Mentor and encourage their development and get them involved with local activities. Spend time listening to them, developing their social skills and encouraging them to aspire to a career or further education.
Help out at drop-in centres and youth clubs where you may arrange activities such as dancing, fitness, games and discussions. Cook, supervise and spend time listening and talking to children and young people. You could also accompany them to outings and events.
Work with children of refugees or asylum seekers to teach language skills or help to run local branches of national organisations such as Boys & Girls Brigade, Scouts and Guides. You will help children to take part in activities, socialise, organise events and work towards badges and awards. Or you could volunteer with YMCA or YWCA.
Get involved in providing courses and training for the Duke of Edinburgh's Award Scheme. Become an Award leader to run a local Scheme and help deliver the best possible experience for the young people taking part. Or you could also help to mentor individuals or use your skills and experience to assess them in aspects of the Award.
Help out with sports teams and after school clubs sharing your skills and enthusiasm on anything from chess and cookery to drama and IT skills.
There are many more ways to get involved with local groups for children and young people. Contact your local Volunteer Centre or local authority for more details about what is going on in your area. You could also consider studying for an NVQ in a relevant qualification such as youth volunteering.
You might also like...