How to Start a Walking School Bus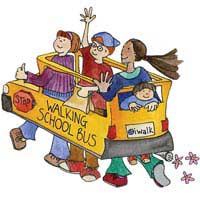 Fears over childhood obesity rates are high, with some kids missing out on the regular exercise they need. Many parents are reluctant to let their children walk or cycle to school alone and do not have the time to walk or cycle with them on a daily basis. So, what's the solution? A walking bus might be just what your area needs, providing a safe, fun and healthy way for kids to travel to school.
What is a walking bus?
At its most basic, a walking bus is simply a group of children walking to school, accompanied by one or more adults. A walking bus can be small, like an arrangement between three neighbouring families, where parents take it in turn to walk the kids to school. Walking buses can also be larger, more organised affairs, used by tens of children and operating according to timetables and rotas. With the adult supervision that a walking bus affords, children throughout your community will have the opportunity to walk to school.
Starting out
When it comes to setting up a walking bus, the key is to start small and let the bus grow and develop over time. Focus on your immediate neighbourhood and get in touch with interested families. Agree a route and print out easy to follow maps for parents and children to consult. When picking a route, make safety your first priority. Are there pavements and are they big enough? How heavy is the traffic? Is crossing the street easy or difficult? Agree a date for a test walk and discuss any issues that arise as a result of it. Next, decide how often your bus will meet and which parents will supervise it on which days. Ensure that parents have each other's contact numbers and know where each child will join the walking bus. Get walking and see how it goes, tweaking your arrangements where necessary.
Building your walking bus
If you want to help out in your local community, it is likely that you are keen to grow your parent-led bus, opening it up to other children and families outside your immediate circle of friends. You will need to develop more routes and draft in more volunteers. A volunteer-led, more formal bus of this sort will involve police checks and training. Volunteers should organise police checks (CRB checks) through the local school. This should be free of charge and many parents may already have been checked, if they are governors or help out in the classroom. A form documenting all volunteer names and signatures must be given to the road safety or school transport coordinator at your local authority. Your local authority, which should provide you with free liability insurance for your walking bus, may require the training of volunteers. The authority's road safety department will organise this, giving volunteers advice on walking with large groups of children. Your route or routes should also be risk assessed and approved by a road safety officer. Finally, all parents, children and volunteers involved will need to sign an agreement with sets out how the scheme works. Your local authority should provide these documents.
Whilst a formal walking bus takes time and effort to set up, an informal, parent-led bus can be arranged quickly and easily. When arranging a walking bus, take things in your stride, developing your scheme as you go. From the outset, though, safety should be on your mind. Ensure that all walkers, parents and children, are kitted out in high visibility clothing.
You might also like...