What Can Children Do to Help in the Community?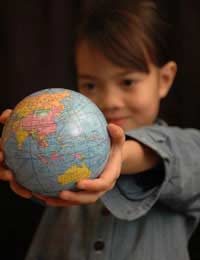 There are plenty of ways in which children can help out in the local community, whilst learning new skills, adding to their knowledge, meeting new people, getting fun and having fun. Help your children to see how their enthusiasm and creativity can benefit other around them.
Creating items for sale
Kids can use their imagination and craft skills to help out in the community, particularly when it comes to fundraising. There are plenty of things that children can make that could be sold at a local fundraising event. From decorated cupcakes, to Christmas finger puppets, to origami pieces and paintings and drawings, many adults love to buy something that a child has created and will often give generously.
Arranging musical performances
If your child is a keen guitar player, or a budding singer, they might enjoy performing at a local nursing home. Many elderly residents love to watch musical performances given by the young. Seasonal shows, such as Christmas carol concerts, can be particularly pleasing. Children can get together with a group of friends to arrange practices and performances.
Making gift boxes
Many children love creating Christmas gift boxes for the elderly. They can fill these full of gifts ranging from the practical, to the decorative, to the fun. Take your child on a trip to the supermarket so that they can choose food items to include in their box. Kids might even like to bake some items too. From biscuits, sweets and jams to puzzle books, lavender bags and bookmarks, well-chosen gifts are sure to put a smile on an elderly neighbours face on Christmas morning. Plenty of schools arrange a gift box scheme for the elderly during the festive season, but if your child's school lacks such a scheme, encourage them to start one. Otherwise, simple get kids to surprise an elderly neighbour with a beautifully decorated box full of treasures.
Taking part in fitness and games events
Charity walks, cycle rides, sports days and fun runs take place in most villages, towns and cities. Encourage your child to take part in an active event. By simply turning up and getting involved they will be contributing to the vibrancy of the local community, whilst raising money for charity too. If kids are able to choose their own charity to raise money for, encourage yours to opt for a local one.
Having a clear out
Encourage your children to sort through their old clothes, books and toys to identify those items they no longer use or want. Children can then choose where to take their donations, whether it be the charity shop down the road, a nearby kid's home, or the paediatric wing of the local hospital.
Thinking of the environment
Help your kids to understand the importance of recycling, creating green environments, minimising waste and caring for the environment. Encourage them to take part in local green events where possible, such as the building of a new community garden or a tree planting project. In this way, your children can help to make your area a cleaner, safer, brighter place for the whole community.
By doing a good deed in the community from time to time, your children will begin to understand the importance of good citizenship. What's more, they're sure to have fun along the way.
You might also like...