Becoming a Youth Council Member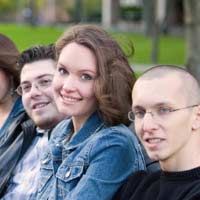 Get involved and have your say on the issues that matter to you. Youth Councils sit across Britain to express the views and concerns of young people. Councils make a practical difference and aim to empower young people from all backgrounds and walks of life. As well as campaigning they offer fantastic training and volunteering opportunities.
Help to influence policies in your local area and gain valuable skills, qualification and experience for your CV. This includes leadership, communications and decision-making skills. These skills are transferable to a wide range of careers especially politics, community activism and management.
Who can Volunteer?
You need to be under 26. Different councils have different rules for eligibility for instance some are open to a narrower age range. You will need good communication skills and have an interest in youth issues and concerns. You must believe in equality and democracy and be able to make a regular time commitment, usually monthly or fortnightly.
Some councils don't require you to stand for election however in most cases you will put yourself forward in a public vote. If this is the case you may have to write a manifesto and canvas for votes. Participating in a Youth Council can count towards a Duke of Edinburgh Award and looks good on your CV for future employers.
What is Involved?
Once elected you will sit on your local youth council and could also find yourself elected onto the national group. You may also be invited to take part in a sub-committee to consider a specific issue. You will get involved in campaigning for issues on the Youth Manifesto and help to influence MPs and decision makers.
You could find yourself attending events as a spokesperson, speaking to local media such as radio and newspapers on youth issues or attending and helping to organize training workshops. Training is a key part of the role of youth councils and you can gain new skills and knowledge from the host of opportunities available.
For example training will help you to become more aware of democracy and the power of your vote, it will also enhance your leadership skills and ability to get your voice heard. You can attend training in carrying out consultations and also in creating action plans which encourages you to take the lead in organisations you are involved with and in your wider community. To help support your aims further you can also receive training in presentation skills and in how local and national government works. Qualify as a young Trustee as you gain experience in committee work and helping to run a voluntary group.
One of the best things is that the national British Youth Council can provide tailored training to suit your local council and it also produces a toolkit of advice on standards and best practice. In addition to training for youth council members it also provides training for adults who work with young people.
As well as training you may also take part in workshops and get involved in creating volunteering opportunities for other young people in your neighbourhood. You will gain experience in strategic planning and liaise with other groups and organisations to share information and skills. For example you may raise issues and concerns with other key organisations such as the local authority and the police and will have access to local councillors. This means that you can help to influence policies in such areas as housing, drugs and leisure facilities. You will also liaise with other community groups such as intergenerational meetings with older people.
Other Roles
Other roles could include creating accessible leaflets on services aimed at your peers e.g. to encourage young people to make appointments with their doctor. You could also create podcasts or videos tackling particular issues. Speak out locally on issues to engage young people or visit schools and youth groups and talk to them.
In addition you could find yourself organising events, fundraising, having a say in management and in the uses for any allocated funding or taking part in fun teambuilding activities such as outward bound, sport or music. There may be an opportunity to attend the annual British Youth Council Convention which brings together young people from across the UK and if you become especially involved you may like to apply for a highly sought after British Youth Council 4-month internship. You will gain valuable practical and life skills as well a good grounding for a wide range of careers.
You might also like...