Ten Easy Ways to Help the Elderly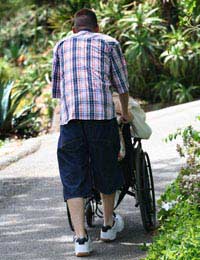 Helping the elderly in your community need not mean drastic levels of commitment or an overhaul of your weekly schedule. There are plenty of quick and simple ways in which you can lend a hand to older neighbours. From checking on smoke detectors to reading aloud, here are ten easy ways to do your bit.
1. Take them to a medical appointment
For many older people, visits to the doctor or hospital can be stressful and the travelling to them can prove difficult. Offer to drive or walk an elderly relative to their medical appointment.
2. Play a game
Whether it be cards, backgammon, or a quiz game, why not stop by and play a game with an elderly neighbour? Many older people have happy and nostalgic memories of playing such games. Offer them your companionship, whilst giving them an opportunity to exercise their grey matter.
3. Be aware of the weather
If the weather is bad for a day or two, make the effort to call in on an elderly person in the community. Rain, snow, frost or even particularly hot weather can cause problems for the elderly, limiting their mobility. Pop by to make sure they have all the supplies they need and offer your company for half an hour.
4. Cook something special
Cookers, pots, pans and other kitchen equipment can prove troublesome for many elderly people. Some stick to pre-prepared or very simple foods as a result. Why not cook a special, delicious meal, such as a roast, for an elderly neighbour? Cook it for them especially, take round a spare portion or even invite them to lunch or dinner with you.
5. Check on smoke detectors
Next time you call in on an older neighbour; take a moment to check that their smoke detectors are in full working order. Take along a couple of new batteries in case their ones need replaced.
6. Do a chore
Even the most sprightly and fit octogenarians in your community are likely to have trouble wielding a vacuum cleaner or disinfecting the backs of the kitchen cupboards. Offer to do a quick chore for an elderly friend.
7. Read for someone
Countless elderly people love reading, whether it be to escape through stories or build on their knowledge by picking up a non-fiction volume. Reading is a great way to unwind and relax. Many elderly people, however, are unable to read due to issues with their eyesight or other health problems. Spend just half an hour a week reading to an elderly person in your community. Once you have an idea of their reading tastes, you could even pick them up some large print books or audio CDs from the local library, to take along on your next visit.
8. Get active together
Ask an elderly friend out for a walk on a sunny day. You need not travel far, a trip to the end of the road and back is better than nothing. If you can, why not walk to a local coffee shop and treat them to a drink and a piece of cake. Keeping active and getting out and about is important for older people's health and wellbeing.
9. Become a personal shopper
For many elderly people, trips into the local town or city are a thing of the past. Why not offer to drive them to town and take them to a few shops they need to pick items up from, or just fancy looking around? If your neighbour is less mobile, ask them if there's anything they would like you to fetch for them next time you visit a large department store or supermarket.
10. Don't be a stranger
When it comes to helping the elderly in your community, the most important thing is to make contact and offer your companionship. Whether that be a quick phone call, a shared meal or a trip out somewhere, don't be a stranger.
If you are new to helping elderly people in your community, pick just one of these ideas and make a promise to yourself to act on it this week. Whether you do favours for older neighbours on a daily, weekly or monthly basis, any time you give will make a difference. What's more, you might even make a few new friends in the process.
You might also like...
I am disabled and I need help with n shopping. I havent left the flat since the lock down. I love on my own I have walking difficulties Any help will be appreciated or talk Kindest regards Leyla
Leyla
- 4-Jul-20 @ 6:15 PM