Being a Police Volunteer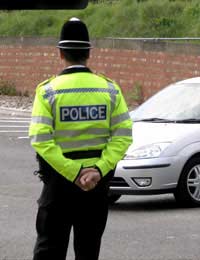 Police volunteering offers a range of opportunities. It can be challenging, exciting, fun and rewarding. It also provides a chance to get actively involved in the local community. People often think that the only way to volunteer is to become a Special Constable. But the rigorous training and entry requirements involved in that are not for everyone. In fact there are many more ways to assist in crime prevention.
Roles Available
Each police force has its own set of volunteering opportunities. These will depend on the needs of that force and current projects and initiatives. It is sometimes also possible for members of the public to suggest new roles.
Get involved in police work by working as a station assistant or an office or administration volunteer. Use IT skills by watching CCTV or updating websites, help process fingerprints or get out into the field assisting the Speed Watch initiative or supporting a Neighbourhood police team.
Roles are many and varied and also include assisting with a video witness scheme, witness support, working on a station front desk and supporting investigating officers. Volunteers can assist with paperwork such as photocopying paper evidence, creating manuals or booking in lost property. Or develop marketing and communication skills by assisting with promotion. An important area where volunteers are valued is in assisting with community policing and helping to create closer links between local people and the police.
Unlike Special Constables police volunteers do not have the same powers as the police, such as powers of arrest. However they are highly valued as important members of the team who help to combat crime and make the most of police resources. Forces may have hundreds of volunteers and it is also possible to 'rise through the ranks' and get involved in volunteer management and strategic planning.
Youth Opportunities
Some police forces also have police volunteer cadets for young people who want to get involved. Cadet forces can provide experience and training, give a taste of a possible future police career and channel young people away from crime. They have regular meetings, physical activities such as drills, talks and lectures and the chance to attend camps and to participate in awards schemes such as the Duke of Edinburgh. They can also help with certain activities which comply with Child Protection such crime prevention talks, spread leaflets, assist with security at some events.
What is Involved?
Although police volunteering is unpaid out of pocket expenses (such as travel expenses) will be reimbursed. Hours vary depending on the role and it is usually possible to be flexible.
Stations usually have a dedicated member of staff such as a Volunteer Coordinator. As part of the team volunteers receive support in their work and guidance and advice from professional police. Volunteers are treated as valuable members of the police team and training will be given which is appropriate for the role.
Police forces are keen that volunteers represent the diversity of their local community and so no specific qualifications are looked for in applications. However it is important that a volunteer can keep confidentiality. Some roles will have special requirements and there are some restrictions on certain professions such as private detectives, magistrates, and other emergency workers such as doctors, nurses and fire service workers.
Police especially value the role of volunteers in helping to develop closer links with the community. Volunteering provides opportunities to learn about many different aspects of police work. It provides invaluable work experience and can give insight into a possible career in policing. In addition to the training, skills and experience to be gained from police volunteering many people find the work rewarding and enjoy the opportunities to work and make friendships in an active, dedicated team.
There is always the potential to take on an even more active role by applying to become a Special Constable.
You might also like...
i wont to work in the police metropolitane volunterre or part time ...tha
comisaru
- 5-Jul-18 @ 2:09 PM
Hi I would like to volunteer do police community I feel thatI would be able to give something to the community I live in I believe I deserve a chance as I have been so unfortunate in past I had record for unworthy thingsI got arrested this comes to on my record although it has been unspent I believe that I should be given a chance as this situation has taught me big a lesson.some of us we did wrong things which we shouldn't it happened but we can make it be honest first to itself then too there's 100%we can do what good things happen we can.thank you all the best to all good luck.13/04/16 at 4.10am
Cameron
- 13-Apr-16 @ 4:11 AM
I would like to volunteer for the police.i feel that I would be able to give something to the community i live in. I believe I deserve a chance as I have been so unfortunate in the past as I had a record for when I was 14 and got arrested over a phone robbery. This comes on my record although it has been unspent. I believe that I should be given a chance as this situation has taught me a big lesson.
None
- 29-Oct-15 @ 4:03 PM
@jean. Some police forces have police support volunteers - they take these from the age of 16. Ask your local police force for more information. Alternatively, any voluntary work will help with a police application in future years. You can apply to become a special constable (volunteer police officer) or to become a paid police officer at the age of 18.
CommunityHelpers
- 26-Mar-15 @ 2:42 PM
I am working with a young man aged 16 who would like to become a Police Man in North Lanarkshire. He would volunteer in the first instance. Can you tell me whom I should contact?
Jean
- 24-Mar-15 @ 4:39 PM
I have been a police support volunteer for about 8 years have done different jobs first manning a community safety office in Hastings, this shut I thenworked for the licencing officer, she moved office I then did quality of service checks talking on the phone to victims who had to have the Police call on them. this came to an en when serials was removed from the computer and since then our volunteer Manager Mark Rendall and our coordinator George Gibbs has not been able to find any job for me and other volunteers, it seems Hastings does not need Support volunteers I have had no work for apx four years now,It is so disheartening when I read on the webb all the interesting roles in other towns and arears but in Hastings we are not wanted or needed, has anyone any ideas
TED
- 17-Oct-13 @ 6:40 PM
i want to work with the police.ihave seen alot going on i my home town. thank you
fama
- 5-Jan-13 @ 11:28 AM
i like to gain more experienceand to volunteer in police,would i be able to work in local areas.
ghost
- 10-Oct-12 @ 10:28 AM
Hi i would like to know how could I apple to do volunteer work for the plolice
Annas
- 14-Sep-12 @ 9:20 PM
Who do I ring for volunteer in police I live in Lancashire can I have telephone number please,I have been to college for 3 years doing public service in Blackburnbut dream now to work in volunteer in police
Soyab
- 11-Jul-12 @ 11:11 PM
hey i would like to be a detective but i know i have to be a police officer at first so i would like to know if i can volunteer in one of yyour police stations just experience a first step that my dreams desires......... i love protecting people alot especially my family so i am trying my hardest to follow my dream of becoming a detective
chanti
- 20-Jan-12 @ 7:39 PM
Hi I am trying to gain some experience in the police force as i want to further my career in forensic psychology. How do i go about volunteering with the police and can i choose the times i work and the area as i am also in my second year of uni and working part time? Best
cheg
- 15-Jun-11 @ 12:15 PM
@Andrew. You can find more information and an application form on your local police service website.
MIKE
- 10-Jun-11 @ 8:58 PM
Hi i wanted to do voluntree work for police and my question would i be able to work in my local area and get this volentree for experience?
Anam
- 10-Jun-11 @ 7:20 PM
Could please forward more information on how a young person (aged 18) can apply to volunteer?
Andrew
- 9-May-11 @ 2:30 PM
I what to joinvolunteering police job. i can go anything. I try my best.
Ilkay
- 4-May-11 @ 11:46 PM
I work for Sir George Monoux College recruiting young people into volunteering, could you please provide me with a number to contact someone on how we can provide opportunites for young people.
Hi, I am wondering if you could give me some further information please. I am a support worker in supported housing, I have a young woman at our service whom is interested in working with the police, she would like to volunteer. The young women is 19yrs old, she has been in trouble with the police and has attended court on some occasions and has a probation officer. Although these may stop her I was wondering if there is any guidance anyone could give me.
Fran
- 28-Mar-11 @ 9:50 AM