Voluntary Animal Fostering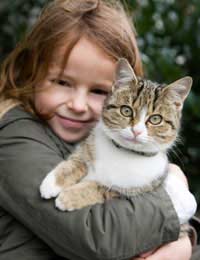 Provide support for members of your community and enjoy the companionship of a cat or dog in your home by volunteering to foster animals. You will be providing a lifeline to an animal whose owner is temporarily unable to look after it and offering vital peace of mind to someone who may have to go into hospital or is recovering from an accident or illness. Alternatively you may offer a much-needed initial home to a vulnerable stray. Animal fostering projects are normally run by charities that depend entirely on volunteers like you to keep their valuable community service up and running.
Who can Volunteer?
Most importantly, you must like animals. However you don't need to have had pets before as long as you have a willingness to learn how to look after them. You must have suitable accommodation and may need to have a spare room for kittens or animals requiring special care and peace. You must be able to spend time with the animal and look after it and any other pets you have must be able to welcome a new member of the household.
What is Involved?
Caring for an animal is rewarding in itself and the therapeutic benefits are well known. By fostering you will support animals and your role will prevent someone from losing their pet or seeing it euthanized. Fostering can provide useful experience in having a pet if you are not sure whether to have one or not and can introduce your children to the idea of having a pet.
Fostering is also ideal if you are an animal lover but do not want to commit to the responsibilities of having a full-time pet yourself.
Contact local animal welfare organisations such as rescue centres and vets. They may take you onto their books as a contact and will try to match you with a pet that is suitable for your background. There are various reasons why animals need fostering. One of the most common is providing short-term care for a much loved pet when their owner has a crisis.
When someone suddenly can't look after their pet for a period of time you will be contacted. The person may have gone into hospital, had an accident or been evicted. They may have had to go into a residential home for a short stay or there may have been domestic violence in the family. Refuges usually cannot take pets.
You will look after the cat or dog until the owner is in a position to look after it again. You usually never meet the owner and may sign a legal document to promise to return the animal to its owner. You will provide the animal with stability and consistency at a time when it is likely to be distressed at being separated from its owner.
Another kind of fostering involves caring for homeless animals who are not thriving in a rescue centre. You will give it a respite from staying in a centre and help to calm and socialise it for its wellbeing. By spending time with it you will reduce its stress levels and allow it to become a more contented animal. This increases its chances of being selected for adoption as well as freeing up space at the rescue centre to allow more animals to find help. If you are fostering dogs you may be asked not to leave them alone for longer than 4 hours at a time.
Some rescue homes with a non-destruction policy have unhomeable pets which may be elderly or ill with long-term conditions. They ask for fosterers to ease spaces at the centre and to give these animals a taste of home. If you feel able to give one of these vulnerable animals a home you will usually receive help with the costs of any medical treatment.
Fosterers can also help look after motherless kittens if a centre receives large numbers of these. You will receive training and support with this and will play an important role in socialising them at an early age and getting them used to being handled. This is especially important with feral kittens. By taking them into your home you also help reduce their risk from catching illnesses from other cats in the centre before they can be vaccinated.
In all fostering roles it is always worth checking with the organisation you are volunteering with to find out whether it will help with costs such as food or any vet bills. Most organisations will help out in some way to support you in this important and rewarding role.
You might also like...