My Museum Volunteering Became My Career: Case Study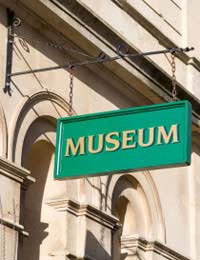 For many people, a career in museum or gallery work is a dream. These areas are notoriously difficult to get into, and every year hundreds of people apply for voluntary positions in order to get their foot in the door. We spoke to a Rachel from Hampshire who began volunteering in order to give something back to her community – and ended up building a career from it.
How did you first begin volunteering?
I started volunteering when my kids were young. I had two children in quick succession, and I felt like I had been stuck inside for what seemed like years. I was going stir crazy, and I decided I needed to do something new and a bit different. Plus, I was really keen on doing something that wasn't just about me – something that meant I was contributing to the community at the same time.
I had always been interested in history, although I'd not done a formal qualification in it since O Levels. But I have a friend who works at a museum about half an hour from where I live, and she mentioned they were looking for volunteers. So I went for an interview, and I started the following week.
So what were your responsibilities as a volunteer?
Initially it was all fairly basic stuff. They call it 'invigilating' but really it's just sitting in the corner making sure people don't touch things they're not supposed to.
But then pretty soon I started doing other things around the museum. They have a busy educational department, and I started working with the kids – helping to run workshops and so on. It was fantastic fun, and I was learning all the time.
Did you move straight from volunteering into paid work?
No. I didn't initially intend to make a career out of the work. But gradually I realised that I might actually be able to turn what I was doing for fun into a job. I think particularly after you have kids, some people just decide they need a big change.
So I decided to go back to university and do a degree in history and museum studies. I did it part time so it ended up taking me five years. It was a big investment in terms of time and money, and I felt like I needed to get something out of it. So I spent a long time applying for jobs afterwards – and, as it happens, I ended up with a role in a fairly large, fairly new local museum.
What are your plans for the future?
I love what I'm doing now, and I want to stick with it. I certainly don't have any plans to move on. But in the long term I would like to keep developing my knowledge of museums and how they work. I love history, but I've realised that what I love even more is the idea of building a museum experience, and guiding people through it. I suppose ultimately I would like to take the skills I have learned and help to build a brand new museum from scratch.
You might also like...