Setting Up a Community Group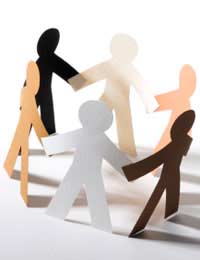 What steps are needed to set up a successful community group? Perhaps there is concern about local safety or a need for a local youth group in the evenings. Maybe someone wants to support their child's school or the hospital where a family member was treated. It could be that an informal group of people have begun a project and want to create a structured group to seek funding. Whatever the cause it is time to take action. Although it may appear daunting, all that is needed to set up a community group is patience, common sense and a willingness to make use of the available sources of advice.
Laying the Groundwork
The first step is to check that there really is demand for the project and that no group is already working in this area. Get some like minded people together and canvas opinion. For example if the aim is to set up a fundraising group to support a local school or hospital then it should be easy to enlist other parents or patients. For other kinds of groups it is worth writing an appeal for the local paper and sounding out neighbours, work colleagues or fellow enthusiasts.
Arrange a public meeting and invite as many people as possible to attend. Set an agenda to discuss the aims of the group, to identify the resources it needs and to allocate initial tasks such as conducting a survey on local support. It is worth inviting representatives from appropriate authorities such as the local council's community department or the police, who may be able to offer help, advice or possibly even funding.
For some kinds of groups such as Neighbourhood Watch schemes training and literature is readily available. For people under 30 the Princes Trust may be able to help. The local Council for Voluntary Organisations can also provide useful help and advice.
Keeping it Legal
Once several people are involved and any surveys or questionnaires have shown positive support for the project it is time to set out policies and procedures for the group. Although it may take a little time this ensures that the group has a clear mission statement and appropriate legal status. This guarantees that it will be fit for purpose and eligible for any available funding. It makes practical sense to get organised early on to ensure the smooth running of the group at a later stage.
Draw up a constitution which outlines the objectives of the group, how it will be run, an outline plan for its sustainability and what will happen if it comes to an end. This will also set out various roles such as Chair and Secretary and list the group's policies. This ensures that everyone is clear about how the group works and will avoid unnecessary arguments at a later stage. The Charities Information Bureau provides useful advice on how to create a simple constitution. This includes guidance on the various legal forms that a group may take (there are special rules for charities and limited companies.)
If the project involves children or vulnerable adults then volunteers may need to have their background checked by the Criminal Records Bureau (CRB) Disclosure Service in England and Wales or Disclosure Scotland for Scotland.
This is also the stage where a specific bank account should be set up (it is usual to require two signatures for any cheques), any relevant insurance taken out and a risk assessment carried out, especially if a building or any special equipment (e.g. gardening tools) is to be used.
Raising Funds
Some thought needs to be given to how the group will be funded. Will membership fees be charged to support the group or will funding be sought elsewhere? A treasurer should have been appointed who will manage the bank account and who may be the person to approach public bodies, trusts or local businesses to seek their support either financially or in kind. The group may decide to launch a public appeal for funds or organise events to raise money and increase local awareness of the project.
Taking Action
Those are really the main steps in setting up a community group. Each group will vary as to how formally or informally it is run. For some projects it will be desirable to seek charitable status while others will work perfectly well with just a basic organisation in place. With a sound foundation, a committee and hopefully a team of willing volunteers the group is ready to organise events, seek publicity, recruit more members and get successfully active in the local community.
You might also like...