Be a Voluntary Occupational Therapist Assistant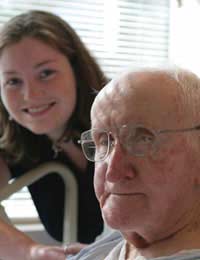 An occupational therapist works with people to enable them to live as independently as possible and to manage their daily lives. Volunteers assist therapists in practical ways and in their work with patients. Patients may have had an accident or illness such as a stroke or they may be elderly, disabled, have mental health issues or learning difficulties.
What is the Role?
Volunteer Occupational Therapists (OTs) also known as occupational therapist support volunteers generally assist OTs in their role. Volunteering can be a good way to gain experience if you are thinking of becoming an OT or working in the health field. It is also rewarding in its own right and puts you at the heart of a team. Roles may be available in hospitals, day care centres or in the community at client's own homes.
Who can Volunteer?
Volunteers need good people and communication skills. Experience in working with disabled people is an advantage and certainly you must feel able to work with vulnerable and disabled people. The role requires flexibility, patience and calmness.
You need to be considerate of patients' needs and rights and have an ability to get on with all kinds of people. Empathy and an ability to motivate people are important and respect for confidentiality is essential. Basic levels of fitness are needed as you need to be able to carry out physical tasks. Practical skills you can share (such as knitting) are helpful and you must be reliable and feel happy to work in a team. As you will be working with vulnerable adults a Disclosure background check will be required.
What is Involved?
An OT assesses a patient and then works with them to improve their wellbeing. You will help support the patient's rehabilitation and encourage positive thinking. You may assist the therapist with equipment during treatment and may accompany patients to and from treatment and keep them company as they wait.
Practical help can include cleaning and disinfecting equipment, collecting and delivering linen and checking on equipment, noticing the need for any repairs and keeping an inventory of it. You may also act as a messenger for OTs and nurses.
Many tasks will directly involve you with patients. Work may be one to one or with groups. You may assist with classes in arts and crafts such as painting and drawing, pottery or making cards. Other life skills classes could include cookery and baking.
You could show patients how use equipment designed to assist them in daily life, and perhaps help to install equipment for them in their homes. Support people to take part in social activities and help them to develop a daily routine as they return to the community.
You will monitor milestones on the way to achieving goals and provide feedback to professional occupational therapists.
You will receive training and ongoing support and may want to work towards a qualification such as NVQ in Health. As you volunteer you will notice changes and improvements in the lives and wellbeing of the patients you work with and will help them to become reintegrated in the local community.
You might also like...
Hi, I'm a recent psychology graduate and I'm interested in pursuing a carer in Occupational therapy. I'm hoping to get some volunteer experience. I'm from London and able to start volunteering ASAP.
Leah
- 28-Mar-21 @ 2:22 PM
Hello, my name's Isabella and I'm keen to gain experience as an OTA in Sheffield. I am currently a teacher, hoping to retrain as an OT by applying for a Masters in 2022. I am caring and keen to be of service wherever I can. Thanks for any advice / help with gaining experience! Isabella
Isabella
- 24-Mar-21 @ 1:44 PM
I currently work as an accountant (I used to be in fashion industry)but have recently looked after an OT with long Covid and after hearing what she does and helping her I've realised I have a lot of attributes and knowledge that could be better used as an OT. I'm currently looking into master courses and would love to volunteer to find out more about the role but to also give back to society. I'm in Brighton so any voluntary work there would be great. I'm driven, analytical, tenacious, optimistic and love getting results. I'm really looking forward to any opportunity you can put my way. I do work Monday to Friday so any weekend work would be brilliant.Thanks
Kim
- 17-Mar-21 @ 12:03 PM
Hi, I am applying to a Masters in Occupational Therapy and I'm interested in any experience/volunteer oppurtunities in Manchetser please! Thankyou.
Brooke
- 12-Mar-21 @ 12:36 PM
Hi I am considering applying for Msc in occupational therapy and I am looking to gain some practical experience. I would be interested in volunteering in my area
Caroline
- 11-Mar-21 @ 4:03 PM
Hello, My name is Mohamad. I have experience working as a Support worker with elderly patient, children with learning disabilities and hold an NVQ3 in health and social care (adult). I would like to pursue my study to become a qualified occupational therapist. I am looking to volunteer as an OT assistant in West London and surrounding area to increase my knowledge and skills and gain relevant experience in occupational therapy. Thank you.
Sam
- 26-Feb-21 @ 4:16 AM
Hi, I am in my third year of studying Psychology and I am interested in occupational therapy as a career. I would love to gain more experience this summer and I am based in London/ Brighton. Thank you
Fiona
- 25-Feb-21 @ 9:04 PM
Hello, I'm currently a 22 year old student in my second year of studying Psychology at University, i am planning to study a masters in Occupational Therapy. I am from Manchester and would love an opportunity to volunteer this year from April-September! Kind regards
Ella
- 20-Feb-21 @ 3:39 PM
Hi my name is Stabby. I have gained a degree in counselling studies. I am looking to study occupational therapy. I would like to gain relevant experience in occupational therapy
None
- 16-Feb-21 @ 7:26 AM
Hi :) I am a first year OT student at the university of Bradford. My placement has recently been cancelled, however I am very interested in doing some voluntary OT work over summer to gain more experience. I am based in West Yorkshire but willing to travel further afield. Any more information would be great :) Thank you, Emma
Emma
- 15-Feb-21 @ 12:10 PM
Hello! I am applying for an MSc in Occupational Therapy. I am keen to gain some experience working alongside an OT to increase my knowledge and understanding of the profession. Any help or advice on how to gain this experience would be greatly appreciated. I am based in West Yorkshire. Many Thanks.
Clare
- 14-Feb-21 @ 8:08 PM
I would like to be an OT assistant, so I need to gain a relevant experience by volunteering first. I live in Wimbledon. Many thanks, Ruba Albarghouthi
Ruba
- 23-Jan-21 @ 10:46 AM
Hi I am applying to study an MSc in occupational therapy and am looking for some voluntary work experience to allow me to enhance my skills and knowledge and to broaden my awareness and understanding of the different areas of occupational therapy. Any details of how to get involved or possible locations would be great. Thank you.
Jessica
- 9-Jan-21 @ 9:28 AM
Hello! I am applying for an MSc In occupational therapy and am looking for volunteering opportunities in my area. Please can you help me? Are there any available in my area? I am happy to travel. Many thanks!
Ana
- 24-Dec-20 @ 3:48 AM
Hello, I have just finished my second year at university for OT and I am currently taking a gap year. I am looking to volunteer in the Leeds and surrounding area to increase my knowledge and skills in different settings. Thank you, Amy
Amy Tennyson
- 23-Dec-20 @ 9:34 PM
Hello, my name is Lydia Greenwood. I am a 23-year-old graduate, considering completing a Masters in Occupational Therapy next year. I am looking at doing some volunteering during the weekends to improve my knowledge of the role and to help support people at this difficult time. I currently work in a Complex Needs School and would like to transfer my skills to this role if possible. Are there any volunteering roles happening in the Norwich or Great Yarmouth areas?
Lydia
- 15-Nov-20 @ 11:41 AM
Hi, I am currently looking for a career change. I am considering a career as an OT or PT, but i haven't got any hands on experience to decide between the two. I am hoping to gain some voluntary experience in the Birmingham area & i am looking for advice on whether i could work as an assistant with my current qualifications. Thank you, any advice would be much appreciated.
Shabz
- 13-Nov-20 @ 11:14 AM
Hello, my name is Cameron Shearer I am in my final year of college at the City of Glasgow studying Fitness, Health and Exercise. I am looking to study Occupational Therapy next year at university as I feel that I still have more to go on my educational journey. I am very positive, enthusiastic and well mannered and think this would make me a good OT. I am wondering if there is and work experience that I could gain in Scotland to help my chances of University? Many thanks, Cameron Shearer
Cameron
- 11-Nov-20 @ 10:56 AM
Hello, My name is Paige and I am currently on a gap year but hoping to study occupational therapy next year at uni. I live in Southampton and am looking to gain any relevant experience and any help in this would be much appreciated!
Paige Chance
- 20-Oct-20 @ 1:28 PM
Hi, I am currently in my final year of studying philosophy and hope to complete a masters in Occupational Therapy. I am looking to gain experience and to use my spare time to make a positive difference. I am currently based in Sheffield but will be moving back to Newcastle in July 2021. Any details of how to get involved and volunteer OT opportunities in either area would be such a big help, thank you.
Freya
- 13-Oct-20 @ 1:44 PM
Hi i have currently taken a gap year from university hoping to do a degree in occupational therapy next year , i would really appreciate some work experience shadowing a OT as i feel that would be invaluble for my course next year to get an insight into my future career
Fozi
- 12-Oct-20 @ 9:43 PM
Hi my name is Rohma I am a third year student and hoping to do a masters in occupational therapy next year. I am looking to gain relevant work experience which will give me a wider insight and knowledge. Regards, Rohma
rohma
- 12-Oct-20 @ 5:28 PM
Hi Im interested in volunteering in the Manchester area if there are any opportunities. Thanks Georgina
Georgina
- 10-Oct-20 @ 10:13 AM
Hi, I am very interested in the volunteering you have highlighted above. As a recent graduate I am looking to specialise in the field of Occupational Therapy. I would appreciate if someone would send on further details of how to apply to this role. Thanks.
Hi. I am currently considering a career change and am looking into retraining to become an OT. I am based in Sheffield and would be interested in what OT shadowing and volunteering opportunities there are in this city. I would be very grateful if I could be advised on how best to approach this career change. Many thanks, Amy.
Amy
- 30-Sep-20 @ 1:56 PM
I am a psychology graduate very keen to train in Occupational therapy. I am keen to gain experience but given the current covid restrictions can you recommend roles or OTA opportunities? I am in the Suffolk area. Thanks.
Poppy
- 26-Sep-20 @ 10:33 PM
Hi I'm currently a second year student nurse. Ive always wanted to do ot but there were no close university's doing the course so i ended up doing nurse. I really want experience shadowing an OT so i can have an insight on what i want to do in my future as now i am slightly confused. Thank you
Badz
- 25-Sep-20 @ 3:18 PM
I would love to volunteer, I am a mother living in Cambridge. I want to pursue OT at university next year and this experience will be invaluable!
Ksenia
- 17-Sep-20 @ 5:06 PM
Hi I'm doing level 3 diploma in OT.I would love to hear from anyone in the bham area.I available to start asap. Thanks
Suki
- 9-Sep-20 @ 1:31 PM
Hi, I am a recent psychology graduate and I would love the opportunity to volunteer as an OTA and gain some experience for my masters course next year. I live in West London, but anywhere in London would be great. Thank you!